Prosciutto-Wrapped Monkfish with Tapenade
Automne 2012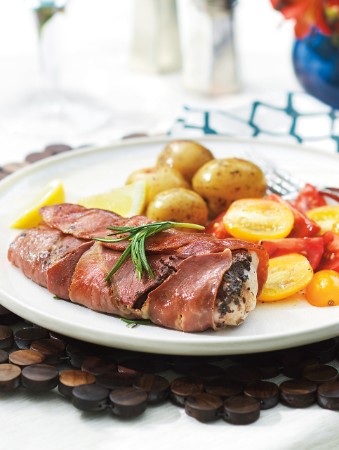 Prosciutto-Wrapped Monkfish with Tapenade
Automne 2012
BY: Julia Aitken
Monkfish has a rich flavour and firm texture that's very much like lobster. The homemade tapenade and prosciutto wrapping add pizzazz to the fish, so keep things simple by serving it with mini potatoes roasted with olive oil and herbs de Provence and a juicy tomato salad.
½ cup (125 mL) oil-cured black olives, pitted
3 tbsp (45 mL) olive oil
2 tbsp (30 mL) drained and rinsed capers
2 tbsp (30 mL) lemon juice
1 tbsp (15 mL) coarsely chopped fresh rosemary leaves
1 clove garlic, coarsely chopped
¼ tsp (1 mL) freshly ground black pepper
6 small boneless monkfish tails, about 6 oz (175 g) each
12 thin slices prosciutto, about 8 oz (250 g)
Lemon wedges and rosemary sprigs for garnish
1 Preheat barbecue to medium.

2 In a mini-chopper, combine olives, 2 tbsp (30 mL) olive oil, capers, lemon juice, rosemary, garlic and pepper. Pulse until finely minced and a fairly smooth paste forms, scraping down the sides of the chopper once or twice.

3 Spread tops of monkfish tails with olive mixture, dividing evenly. Wrap each monkfish tail in 2 slices of prosciutto, overlapping slices slightly. Brush prosciutto-wrapped monkfish with remaining olive oil.

4 Grill monkfish, with lid closed and turning monkfish once, until prosciutto is slightly crisp and monkfish is opaque throughout, 10 to 12 minutes.

5 Divide monkfish among 6 dinner plates and garnish with lemon wedges and rosemary sprigs.
SHARE