Prosciutto with Fig and Goat Cheese
Early Summer 2006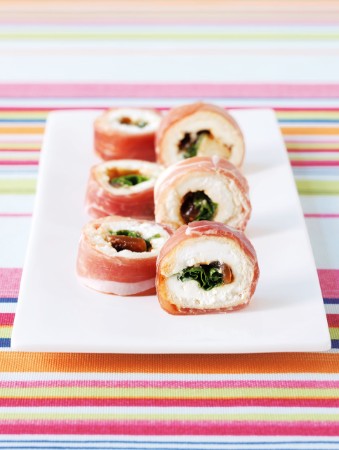 Prosciutto with Fig and Goat Cheese
Early Summer 2006
BY: Lucy Waverman
Using sushi as an example, these little rolls look like sushi but have a very Italian taste. Fig chutney, preserve or relish is available at gourmet shops and many cheese shops, too.
12 slices prosciutto
1 tbsp (15 mL) Dijon mustard
2 tbsp (25 mL) mayonnaise
12 slices thinly sliced white bread, crusts removed
6 oz (175 g) goat cheese, softened
¼ cup (50 mL) fig chutney
1 cup (250 mL) baby arugula
1. Lay 3 slices of prosciutto on wax paper, slightly overlapping. Combine mustard and mayonnaise and spread 1 tbsp (15 mL) of mixture over 3 slices of bread.

2. Lay all 3 slices of bread edge to edge, mustard-side down, on prosciutto. Spread 3 tbsp (45 mL) goat cheese on bread and top with 1 tbsp (15 mL) of chutney.

3. Lay ¼ cup (50 mL) arugula in a line along the edge of the bread. Roll up using the wax paper as a guide. Repeat, making 4 sandwiches total. Refrigerate for 2 hours. Cut into ½-inch- thick (1-cm) rounds.
Makes approximately 48 pieces
SHARE