Prosciutto with Artichokes and Arugula
Early Summer 2006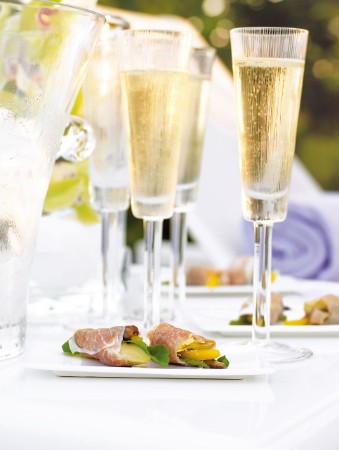 Prosciutto with Artichokes and Arugula
Early Summer 2006
BY: Marilyn Bentz-Crowley
These Italian salad rolls are bursting with Mediterranean flavours.
One 398 mL can artichoke hearts
Two 4-inch (10-cm) portobello mushrooms
1 tbsp (15 mL) red or white wine vinegar
1 tbsp (15 mL) olive oil
4 large basil leaves, finely shredded
1 small clove garlic, minced
1/8 tsp (0.5 mL) salt
2 to 3 grindings black pepper
1 sweet red, yellow or orange pepper
8 slices prosciutto ham
16 arugula leaves
½ cup (125 mL) freshly grated Asiago or Parmesan cheese
1. Drain artichokes; if whole, cut into quarters. Scrape gills from mushrooms; discard. Thinly slice mushrooms. Stir vinegar with oil, basil, garlic, salt and pepper. Add mushroom slices; lightly toss to coat with dressing. Mushrooms absorb all of dressing. Seed and thinly slice red pepper.

2. Lay individual prosciutto slices on work surface; cut each in half lengthwise. Place a folded-in-half arugula leaf crosswise at one end of each narrow strip. Dividing equally among the strips, top each with mushroom, red pepper, artichoke quarter and pinch of cheese.

3. Snugly roll up each prosciutto strip letting vegetables peek out of each end. Arrange, seam-side down, in an 8 x 8-inch (2-L) glass dish. Cover and refrigerate until needed, up to half a day.
SHARE