Oven-Roasted Chicken with Prosciutto, Lemon & Sage
Automne 2010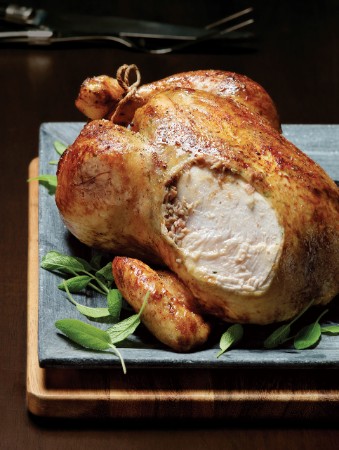 Oven-Roasted Chicken with Prosciutto, Lemon & Sage
Automne 2010
BY: Heather Trim
While roasted chicken on its own is delicious, take it up a notch with a few simple additions.
4 thin slices prosciutto, about 2 oz (60 g)
1 tbsp (15 mL) each butter and Dijon mustard
2 tbsp (25 mL) finely chopped sage
Finely grated peel of 1 lemon
1 large garlic clove, minced
Generous pinches each salt, pepper and paprika
3 lbs (1.5 kg) whole chicken
1. Preheat oven to 375°F (190°C). Finely chop prosciutto. In a medium bowl, add butter and Dijon. Mash together to blend. Stir in prosciutto, sage, lemon peel, garlic and pinches of salt and pepper.

2. Very carefully using your hands, pull away skin from 1 chicken breast, just enough so that you can slide about a quarter of the mixture in between skin and meat. Using your hands on top of skin try to spread out butter mixture under skin. Repeat with other breast and thighs spreading remaining mixture under skin.

3. Season outside of chicken with salt, pepper and paprika. Tie legs together if you wish. Place chicken in a small roasting pan.Roast in centre of preheated oven, basting occasionally until juice runs clear when thigh is pierced, about 1¼ hours.
SHARE