Mexican Chicken with Grilled Tomato Avocado Salsa
Summer 2001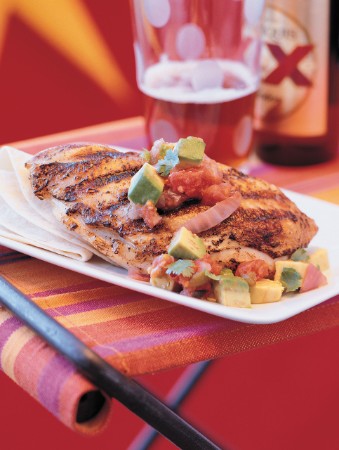 Mexican Chicken with Grilled Tomato Avocado Salsa
Summer 2001
BY: Lucy Waverman
This colourful, slightly spicy, citrus-scented chicken should be served with warm tortillas. If you substitute skinless chicken breasts, cook for 1 minute less. Grilling the vegetables for the salsa gives a depth of flavour that heightens the whole dish.
2 large tomatoes
1 small red onion
2 jalapeño peppers
3 cloves garlic, unpeeled
2 tbsp (25 mL) orange juice
1 tbsp (15 mL) lemon juice
Salt to taste
4 boneless, chicken breasts, skin on
Olive oil for brushing chicken breasts
1 avocado, peeled
2 tbsp (25 mL) chopped cilantro
1. Slice tomatoes and red onion in thick slices. Cut jalapeños in half and remove seeds.

2. Preheat grill to high. Place tomatoes, onion, jalapeños and garlic cloves in a grill basket or on the grill itself. Grill about 2 minutes each side, with lid down, or until vegetables and jalapeños are charred and garlic skin comes off. Remove from grill, cool and chop up. Stir in orange and lemon juice. Season with salt.

3. Spread half of mixture, reserving remainder, over chicken breasts and under skin and marinate for 1 hour or up to 4 days refrigerated.

4. Brush chicken with olive oil. Place on grill and grill 5 minutes per side or until juices are clear.

5. Meanwhile, chop up avocado and stir in remaining tomato mixture. Stir in cilantro. Slice chicken into ½-inch (1-cm) slices and serve with salsa.
SHARE