Vindaloo Chicken
Summer 2007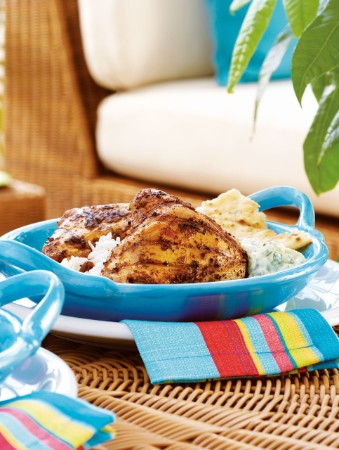 Vindaloo Chicken
Summer 2007
BY: Tonia Wilson-Vuksanovic
The fragrant aromatics and complex flavours of a well-made vindaloo paste can add instant impact to simple grilled chicken. The key is allowing enough time for it to marinate. To accompany the spicy chicken and refreshing raita (recipe follows), prepare some basmati rice studded with sultanas and place a few pieces of naan bread on the grill to be warmed just in time for a delicious meal.
2 tbsp (25 mL) store-bought vindaloo paste
Juice and grated rind of 1 lime
1 tsp (5 mL) cumin
½ tsp (2 mL) cinnamon
½ tsp (2 mL) cardamom
¼ cup (50 mL) vegetable oil
10 chicken thighs, skinless
1. Mix together vindaloo paste, lime juice and rind, cumin, cinnamon, cardamom and oil in a large baking dish. Add thighs and toss to coat in the marinade. Cover with plastic wrap, place in refrigerator and marinate for at least 4 hours.

2. Heat barbecue and grill chicken thighs until golden on the outside and juices run clear, about 10 minutes per side.

Cucumber and Coriander Raita
The cooling effect of Raita tempers the heat of Vindaloo paste.

1 English cucumber, peeled
1 cup (250 mL) full-fat yogurt (at least 5%)
¼ tsp (1 mL) cumin
2 tbsp (25 mL) chopped coriander
1 tbsp (15 mL) chopped mint
Salt to taste
1 tbsp (15 mL) vegetable oil
1.  Grate cucumber onto middle of a clean tea towel. Wrap cucumber well with towel and squeeze to wring out excess liquid. Place cucumber into a medium bowl.

2.  Add yogurt, cumin, coriander, mint, salt and oil, and stir to combine.
Makes 2 cups (500 mL), 4 servings
SHARE