Potatoes Mashed with Caramelized Onions
Printemps 2006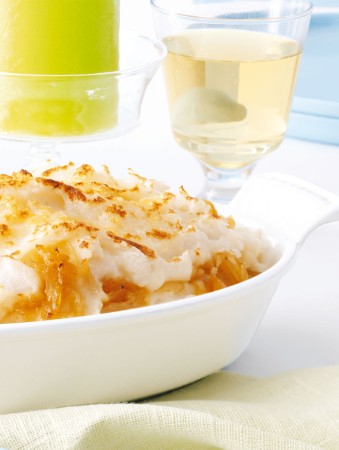 Potatoes Mashed with Caramelized Onions
Printemps 2006
BY: Lucy Waverman
A delectable potato dish that can be made ahead. Prepare until the final baking, then pop them in the oven sprinkled with a little cheese.
Onions
1 tbsp (15 mL) olive oil
2 tbsp (25 mL) butter
6 cups (1.5 L) sliced Spanish or sweet onions
Salt to taste
1 tbsp (15 mL) granulated sugar
1 tbsp (15 mL) sherry vinegar
½ cup (125 mL) chicken or beef stock
Freshly ground pepper

Potatoes
3 lbs (1.5 kg) Yukon Gold potatoes,
peeled and cut into even-sized chunks
¾ cup (175 mL) buttermilk
¼ cup (50 mL) melted butter
Salt and freshly ground pepper
½ cup (125 mL) grated Asiago cheese
1. Heat oil and butter in a large skillet over medium heat until butter sizzles. Add onions and salt and sauté for 3 minutes or until onions start to soften. Sprinkle in sugar, turn heat to medium-low and continue to cook, stirring occasionally, until onions turn golden brown, about 20 minutes. Stir in vinegar and stock. Raise heat to high and reduce until stock almost completely disappears, about 3 minutes. Remove from heat, season with salt and pepper and reserve.

2. While onions are cooking, place potatoes in cold salted water to cover and bring to boil. Boil for 10 minutes or until potatoes are tender. Drain well and return to turned-off burner for a few minutes to dry off.

3. Mash potatoes with a potato masher and beat in buttermilk and butter. Season well with salt and pepper.

4. Preheat oven to 375ºF (190ºC).

5. Butter a large gratin dish. Layer one-third of potatoes and then half of onions. Repeat layering, finishing with potatoes. Sprinkle with Asiago cheese and bake for 20 to 25 minutes or until top is browned and potatoes are hot.
SHARE