Potato, Caramelized Onion and Roasted Garlic Squares
Holiday 2008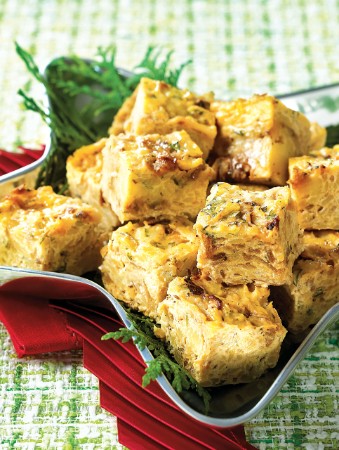 Potato, Caramelized Onion and Roasted Garlic Squares
Holiday 2008
BY: Anna Olson
When cut into small squares, these are ideal hors d'oeuvres, but also consider this as a make-ahead accompaniment to a roast beef or chicken dinner.
1½ lb (720 g) Yukon Gold potatoes (approx. 2 large)
2 tbsp (25 mL) butter
2 tbsp (25 mL) olive oil
4 cloves garlic, peeled
3 cups (750 mL) sliced onion
3 tbsp (45 mL) dry vermouth
2 tsp (10 mL) chopped fresh thyme
1 tsp (5 mL) salt
½ tsp (2 mL) ground black pepper
¾ cup (175 mL) sour cream (not low-fat)
½ cup (125 mL) grated Parmesan cheese
2 large eggs
2 tbsp (25 mL) chopped Italian parsley
1. Boil potatoes, whole and in their skins, in salted water until cooked, about 30 minutes. Drain and cool completely.

2. While potatoes are cooking, preheat oven to 350ºF (180ºC).

3. In a small baking dish, place butter, oil and garlic cloves. Cover and roast until garlic is golden brown, about 30 minutes. Remove garlic cloves to a small bowl and mash with a fork. Pour remaining butter and oil into a large sauté pan over medium heat and add onions. Sauté onions until they are a rich brown colour, about 30 minutes, adding vermouth a tablespoon (15 mL) at a time during the last 10 minutes of cooking. Stir in thyme, salt and pepper, and mashed roasted garlic and cool to room temperature.

4. Keep oven temperature at 350ºF (180ºC). Lightly grease an 8-inch (20-cm) square baking pan and line with parchment paper so that it hangs over the sides.

5. Peel cooked and cooled potatoes and grate using the coarse side of a box grater into a large bowl. Add cooled onion mixture and stir. In a separate bowl, whisk sour cream, Parmesan, eggs and parsley to blend. Add sour cream mixture to potatoes and stir to combine. Spread mixture into prepared pan and bake for about 40 minutes, until squares are set and golden brown. Cool completely in pan before chilling overnight.

6. To serve, slice squares while cold, then warm in a 300ºF (150ºC) oven for 15 minutes.
Makes one 8-inch (20-cm) pan, or 25 squares
SHARE