Potato and Parsnip Soup with Smoked Sea Salt
Automne 2008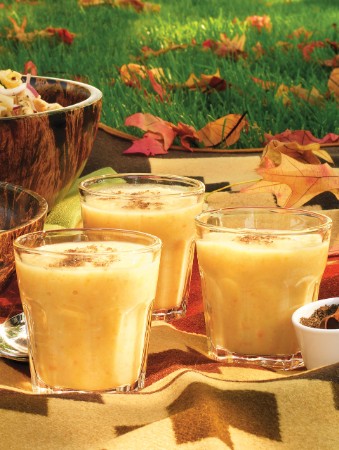 Potato and Parsnip Soup with Smoked Sea Salt
Automne 2008
BY: Marilyn Bentz-Crowley
Parsnips have an earthy sweetness that marries well with smoke. To achieve this subtle undertone, use naturally smoked sea salt available at specialty stores (see Tip). Pass a dish of this brown-black salt with the tiniest spoon you own for each person to add more to taste. But beware —a little smoke is divine, a lot is overwhelming.
5 medium parsnips, about 8 oz (250 g)
3 medium russet or Yukon Gold potatoes
3 medium carrots
2 medium leeks
2 tbsp (25 mL) butter
2 garlic cloves, cut in half
4 cups (1 L) chicken or vegetable stock, preferably lower-sodium
¾ to 1 tsp (3 to 5 mL) smoked sea salt
1 tbsp (15 mL) finely chopped fresh parsley
1. Peel parsnips, potatoes and carrots; cut into chunks. Cut off and discard deep green end of leeks; slice in half lengthwise. Rinse under cold running water to dislodge any dirt or sand. Drain; cut into chunks.

2. Heat butter in a large saucepan over medium heat. Add leeks and garlic; sauté 5 minutes, stirring occasionally, or until softened. Add vegetables and stock. Bring to a boil, reduce heat and simmer for 15 to 20 minutes or until vegetables are soft.

3. Purée in a blender or food processor. Stir in smoked salt and parsley. If soup seems too thick, thin with additional broth or water; taste again for seasoning. Reheat soup to serve immediately or to pour into a wide-mouthed insulated flask. Garnish each bowlful with a tiny pinch of smoked salt. (Soup can be covered and promptly refrigerated for up to 3 days. This soup does not freeze well.)

Tip: Naturally alder-smoked sea salt is sold by Turtle Reef Fine Salts (www.turtlereefsalts.com). Check for availability at specialty food stores such as Portions Distinctive Meals and more in Guelph (519•837•3337), Foodstuffs in Georgetown (905•877•6569), and Whole Foods Markets in Toronto (416•944•0500) and Oakville (905•849•8400). If not obtainable, season soup with sea salt and add a few judicious drops of liquid smoke (which is widely available).
SHARE