Potato Salad with Grapes, Walnuts and Chèvre
Summer 2006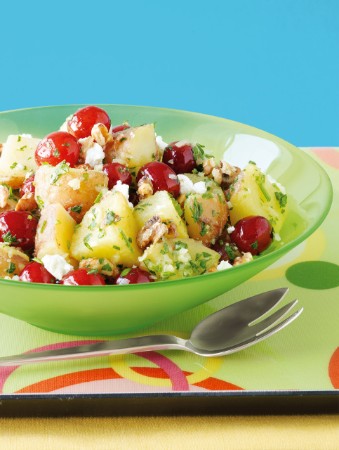 Potato Salad with Grapes, Walnuts and Chèvre
Summer 2006
BY: Marilyn Bentz-Crowley
Walnuts make a double appearance in this south-of-France potato salad. The salad's gentle flavours complement grilled tarragon chicken, rosemary lamb or peppery pork tenderloin.
3 lb (1.5 kg) white or red new potatoes
1 shallot
2 tbsp (25 mL) Champagne vinegar
1 tbsp (15 mL) water
1 tsp (5 mL) honey
1 tsp (5 mL) salt
¼ tsp (1 mL) freshly ground black pepper
2 tbsp (25 mL) olive oil
1 tbsp (15 mL) walnut oil
1½ cups (375 mL) seedless red grapes
½ cup (125 mL) walnut pieces, toasted
4 oz (125 g) creamy goat cheese, crumbled
½ cup (125 mL) chopped parsley
1. Generously cover potatoes with cold water in a large saucepan; bring to a boil. Reduce heat; gently boil 20 to 25 minutes or until just tender when pierced with a skewer. Drain and cool until able to handle.

2. Meanwhile, finely mince shallot. In a large mixing bowl, stir vinegar and water with shallots, honey, salt and black pepper. Add olive and walnut oils. Cut warm unpeeled potatoes into chunks, adding to bowl as they are cut.

3. Using a large spoon or spatula, gently mix potatoes by lifting up and turning from the bottom of the bowl. To aid in rapid cooling, make a well in the centre of the salad or spread out in a 9 x 13-inch (3-L) baking dish or pan. Cover with plastic wrap and refrigerate several hours until cold.

4. When ready to serve, cut grapes in half, lengthwise. Gently stir potato salad using a folding motion. Set aside a small handful of walnuts for garnish; fold remainder into salad along with grapes, chèvre and parsley until just combined. Salad can be covered and refrigerated for up to a day. Pile into serving bowl and strew reserved walnuts over top.
Serves 6 to 8 as a side dish
SHARE