Potato Pikelets with Mushroom
Temps des Fêtes 2010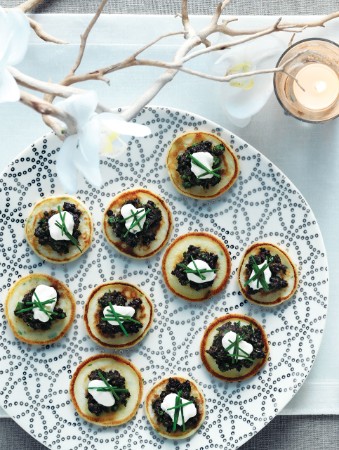 Potato Pikelets with Mushroom
Temps des Fêtes 2010
BY: Marilyn Bentz-Crowley
Pikelets are very small pancakes widely enjoyed throughout the former British Commonwealth as both a savoury and a sweet. These tiny cakes can be made way ahead and just need reheating. While a mushroom mixture is used in this recipe to top the pikelets, slices of gravlax, smoked salmon or trout can easily replace the mushrooms if you prefer. (If making these for a cocktail party, I suggest you double the recipe because the nibble is indeed just one bite.)
PIKELETS
1/2 cup (125 mL) all-purpose flour
1/2 tsp (2 mL) baking powder
1/4 tsp (1 mL) salt
1/2 cup (125 mL) cold mashed potatoes
1 egg
6 tbsp (90 mL) water
1 tsp (5 mL) finely chopped fresh parsley
1 to 2 tbsp (15 to 25 mL) peanut or other vegetable oil

MUSHROOMS
8 oz (250 g) mixed fresh mushrooms such as button, cremini and oyster
1/2 tsp (2 mL) salt
1 tbsp (15 mL) olive oil
11/2 tsp (7 mL) lemon juice
1 tbsp (15 mL) finely chopped fresh parsley
2 or 3 grindings black pepper
1/4 cup (50 mL) sour cream or crème fraîche
1 to 2 green onions, minced, or 2 tbsp (25 mL) finely snipped chives
1 To make pikelets, stir flour with baking powder and salt in a small bowl. In a medium bowl, break up mashed potatoes; whisk in egg and water. When combined, stir in flour mixture and parsley. Batter has a thin pancake consistency; if too thick add a bit more water.

2 Make pikelets in batches of 4 as they only take a couple of minutes to cook. Heat 1 tbsp (15 mL) of oil in a medium frying pan, preferably cast iron, over medium heat until very hot but not smoking. (Add additional oil as needed.) Spoon teaspoonfuls of batter into hot oil; they should sizzle. Check bottoms after a minute; turn when browned for another minute. Drain on paper towels. Cover and refrigerate until needed, up to 2 days.

3 Coarsely cut up mushrooms; place in food processor with salt. Pulse several times until finely chopped but visible pieces remain. Turn into a small sieve to drain; loosely cover with plastic wrap. After 30 minutes, gently plunge your fist on top of plastic into mushrooms, forcing mushrooms to sieve's side to drive out more liquid. When they look very dry, turn into a small bowl. Stir in oil, juice, parsley and pepper. Cover and refrigerate up to half a day.

4 When ready to serve, preheat oven to 400°F (200°C). Place pikelets in a single layer on an ungreased baking sheet. Bake 5 minutes or until hot. Top with a measure of mushroom mixture, a dab of sour cream and a sprinkling of green onions. Serve right away.


SHARE