Potato Lasagna
Automne 2017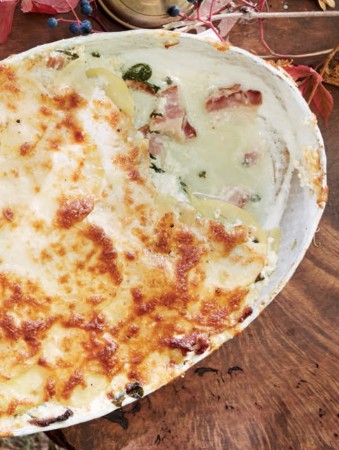 Potato Lasagna
Automne 2017
BY: Lucy Waverman
Slice the potatoes on a mandolin for ease and for even thickness. If you don't have one, thinly slice by hand or use a food processor. The spinach makes a good contrast in colour to the potatoes.
3 cups (750 mL) ricotta cheese
2 cups (500 mL) milk
1 cup (250 mL) whipping cream
Salt and freshly ground pepper
2½ cups (625 mL) grated provolone cheese
1 cup (250 mL) grated Parmesan
½ lb (250 g) double smoked bacon, cut in 1 inch (2.5 cm) strips (optional)
2 tbsp (30 mL) butter, divided
1 clove garlic, peeled and halved
4 lbs (2 kg) Yukon Gold potatoes, peeled and thinly sliced
6 cups baby spinach
1. Preheat oven to 375°F (190°C).

2. Stir together the ricotta cheese, milk and whipping cream in a bowl. Season with salt and pepper. Combine provolone and Parmesan.

3. Heat a skillet on medium heat and sauté the bacon until slightly crisp, about 6 to 7 minutes.

4. Grease a baking dish with 1 tbsp (15 mL) butter and rub garlic halves all over. Layer one-quarter of potatoes in the dish. Season the layer with salt and pepper. Top with one-third of bacon and layer on one-third of spinach. Pour over one-third of milk mixture. Spread over one-quarter of the cheese mixture. Repeat layers 2 more times. Layer over remaining potatoes and sprinkle over remaining cheese. Dot with remaining butter.

5. Cover with parchment paper then foil. Place baking dish onto a lined baking sheet and bake for 40 minutes. Remove cover and bake another 25 to 35 minutes or until potatoes are soft and topping is golden.
SHARE