Potato Kugel
Printemps 2011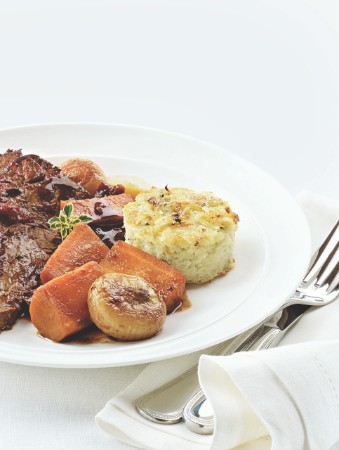 Potato Kugel
Printemps 2011
BY: Lucy Waverman
This is a traditional eastern European Passover dish similar to a large potato pancake but so good that we like to make it all year round. If you aren't making this for Passover you can add ½ cup (50 mL) sour cream to the mixture and substitute the matzoh meal with ¼ cup (50 mL) flour, which makes for a different texture that is just as delicious. Matzoh meal is available at most grocery stores.
6 large Yukon Gold potatoes, peeled and grated, about 3 lbs (1.5 kg)
2 cups (500 mL) grated onions
2 cups (500 mL) grated zucchini
2 cups (500 mL) grated parsnips
4 large eggs
½ cup (125 mL) vegetable oil
3 tbsp (45 mL) matzoh meal
¼ cup (50 mL) chopped parsley
Salt and freshly ground pepper

TOPPING
1 tbsp (15 mL) vegetable oil
1 Preheat oven to 400°F (200°C). Oil a 9 x 13-inch (23 x 32-cm) metal baking dish.

2 Combine potatoes, onions, zucchini and parsnips in a large colander. Rinse with cold water and, working in batches, place handfuls on a clean kitchen towel and wring out to remove excess moisture.

3 Whisk together eggs, oil and matzoh meal. Fold in grated vegetables and parsley and season very well with salt and pepper. Pack potato mixture into prepared baking dish and bake for 30 minutes or until top has set, then brush with remaining 1 tbsp (15 mL) oil and continue baking for 30 minutes longer or until top is crisp and golden.



SHARE