Potato Kugel
Printemps 2000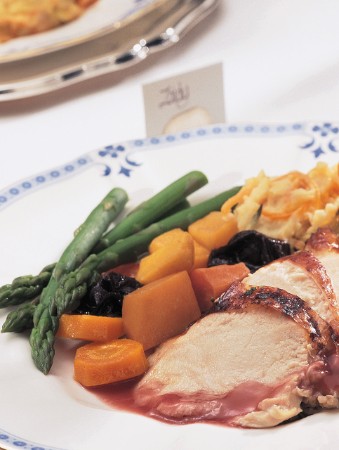 Potato Kugel
Printemps 2000
BY: Lucy Waverman
A kugel is a mixture of vegetables or noodles set with eggs and containing sweet or savoury ingredients. It is a standard dish for all holiday occasions. To make the kugel moist, you need to use fat. Chicken fat would be the choice of many but I find olive oil is excellent. This recipe can be made one day in advance and reheated.
9 Yukon Gold potatoes, peeled and halved
1/3 cup (75 mL) olive oil
2 onions, chopped
2 carrots, shredded
2 zucchini, chopped
4 eggs
Salt and freshly ground pepper to taste
¼ cup (50 mL) chopped fresh coriander or parsley
1. Place potatoes in a pot of cold water and bring to boil. Reduce heat and simmer for 15 minutes or until potatoes are fork tender. Drain well.

2. Meanwhile, heat 2 tbsp (25 mL) oil in a skillet on medium-high heat, add onions and sauté until softened and beginning to turn golden, about 7 to 10 minutes. Reserve.

3. Preheat oven to 350°F (180°C). Mash potatoes with a mixer or by hand. Stir in carrots, zucchini, eggs, remaining ¼ cup (50 mL) olive oil and onion mixture. Season with salt, pepper and coriander. Place in a large oiled baking dish. Bake for 35 to 40 minutes or until browned on top and potatoes are heated through.
SHARE