Potato Gnocchi
Spring 2001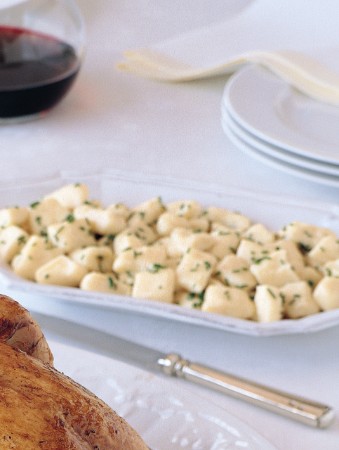 Potato Gnocchi
Spring 2001
BY: Jennifer McLagan
Resist the temptation to cook too many gnocchi at once! They should have plenty of room to bob about in the boiling water.
3 medium baking potatoes
1 egg
2 tbsp (25 mL) butter at room temperature
1/4 cup (50 mL) grated Parmesan cheese
1 cup (250 mL) all-purpose flour
Salt and freshly ground pepper
2 tbsp (25 mL) olive oil
1/4 cup (50 mL) chopped chives
1. Preheat oven to 400°F (200°C). Prick potatoes and bake one hour or until very tender. Halve and scoop out flesh while hot. Pass through ricer or mash. Add egg, butter and mix well. Add cheese and enough flour to make a soft but not sticky dough. Season.
2. Let cool slightly. Take half the dough and roll on well floured surface into a 1 inch (2 cm) rope. Cut into 1 inch (2 cm) pieces and place on floured baking sheet. Repeat with remaining dough. They may be cooked immediately or kept refrigerated for several hours. Once cooked they must be eaten immediately.
3. To cook, bring a large pot of water to boil. Add salt and reduce to simmer. Add about 20 gnocchi and stir. Once they rise to top cook for another minute. Remove with slotted spoon and place in warmed serving dish. Toss gently with olive oil. Repeat with remaining gnocchi. Top with chives.
SHARE