Potato Chips
Holiday 2000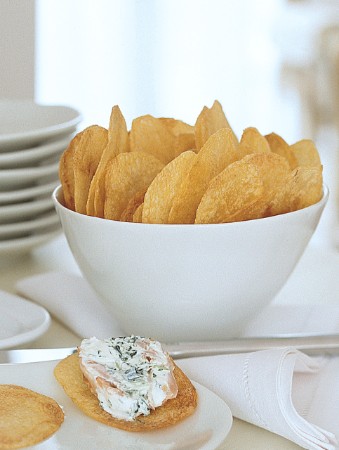 Potato Chips
Holiday 2000
BY: Lucy Waverman
This method of making buttery potato chips is a popular restaurant method. The French Laundry in Napa serves them, as does Pied à Terre in London, England. They are easy to make but work best if the potatoes are thinly sliced. These could be made up to 3 days ahead of time and stored in an airtight container.
3 Yukon Gold potatoes, peeled
1/4 cup (50 mL) melted butter
Salt and freshly ground pepper
1. Preheat oven to 375F° (190°C).

2. Thinly slice potatoes lengthwise for larger chips.

3. Butter a heavy baking sheet. Top with potato slices and season with salt and pepper. Butter the back of a second sheet and place on top of potatoes, weighing down the slices.

4. Bake for 20 to 25 minutes or until slices are tender-crisp and browned. Cool on rack. Serve with salmon terrine.
SHARE