Potato Cakes
Holiday 2013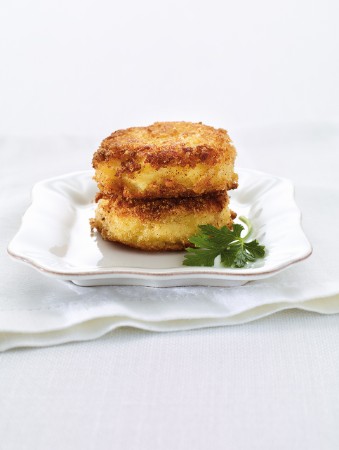 Potato Cakes
Holiday 2013
BY: Lucy Waverman
Perfect as a side dish for fish and chicken.
1 cup (250 mL) dry bread crumbs
Salt and freshly ground pepper
1 tsp (5 mL) dry mustard
2 cups (500 mL) leftover mashed potatoes
1 egg, lightly beaten
¼ cup (60 mL) vegetable oil
1 Season bread crumbs with salt, pepper and dry mustard. Spread on a baking sheet.

2 Stir together potatoes and egg. Season with a little salt and pepper. Shape a ¼ cup (60 mL) potato mixture into a patty. It may be a little soft. Press both sides into bread crumbs. Repeat with remaining potatoes.

3 Heat 2 tbsp (30 mL) oil in a nonstick skillet over medium heat. Carefully add cakes, but do not crowd the pan. Fry 3 minutes a side or until brown. Repeat, adding more oil if needed to fry the remaining cakes.
SHARE