Potato & Squash Cakes
Autumn 2009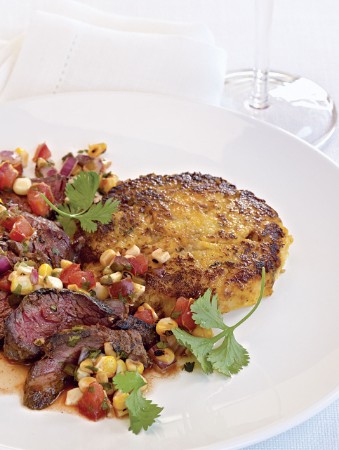 Potato & Squash Cakes
Autumn 2009
BY: Lucy Waverman
This mixture makes a subtle change from using only potato. Pecorino cheese is saltier than Parmesan and it gives a distinctive taste to the mixture. These cakes can be fried and then reheated in a 350°F (180°C) oven. I sometimes make 6 smaller cakes out of this mixture as leftovers reheat beautifully.
1½ lbs (750 g) Yukon Gold potatoes, unpeeled
2 cups (500 mL) peeled butternut or buttercup squash, cut into
2 inch (5 cm) pieces
1 cup (250 mL) grated pecorino Romano cheese
1 tbsp (15 mL) chopped fresh thyme
Salt and freshly ground pepper
2 tbsp (25 mL) vegetable oil for frying
1. Place potatoes in a pot of cold water. Bring to boil, reduce heat to medium and simmer for 20 to 30 minutes or until tender. Drain well. Reserve.

2. Place squash in a pot of cold water. Bring to boil and boil for 6 to 7 minutes or until tender but not soft. Drain and return pot to stove to dry off the squash. Reserve.

3. Skin potatoes and grate coarsely. Grate squash into potatoes, stir in cheese and thyme and season with salt and pepper to taste. Form mixture into 4 cakes about 1 inch (2.5 cm) thick.

4. Heat oil in a nonstick skillet over medium heat and fry cakes for 3 minutes per side or until a crust forms and they are heated through.
SHARE