Potato & Sage Soufflé
Holiday 2018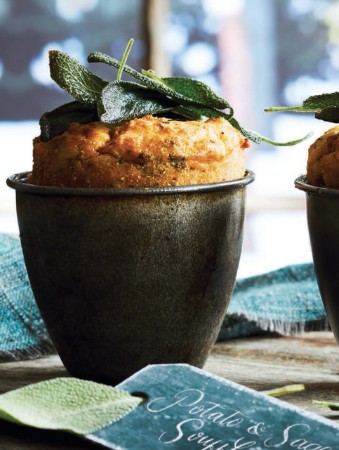 Potato & Sage Soufflé
Holiday 2018
BY: Christopher St. Onge
These so-good potato puffs make a great side to holiday centrepiece roasts. Making them in smaller individual ramekins means they can be made in a countertop oven if your turkey or ham needs to cook at a different temperature. You can make just one larger soufflé in a 6-cup (1.5-L) capacity soufflé dish instead, if you have the room in your oven. Bake for 10 minutes longer in that case.
2 lbs (905 g) russet potatoes, about 3 medium
½ cup (125 mL) unsalted butter, plus extra for ramekins
12 cloves garlic, peeled
½ cup (125 mL) chopped sage
½ cup (125 mL) finely grated Parmesan cheese
½ cup (125 mL) loosely packed coarsely grated
Gruyère
4 egg yolks
Salt and freshly ground black pepper
Fine bread crumbs
6 egg whites

OPTIONAL GARNISH
Oil for frying
1 cup (250 mL) loosely packed sage leaves
1. Boil unpeeled potatoes in salted water for 25 to 30 minutes until fork-tender. Let cool 10 minutes.

2. Meanwhile, melt butter in a small pot, add garlic and cook over very low heat, covered, for 15 minutes; remove lid and check to ensure the butter and garlic aren't browning. If they are, remove from heat. Otherwise cover and continue cooking until butter smells nutty and cloves are very tender and golden, 5 to 10 minutes longer. Remove garlic and set aside; add chopped sage to hot butter and set aside.

3. Peel potatoes with your fingers and pass through a ricer along with reserved garlic (or finely mash with a potato masher). Stir in butter mixture, then both cheeses. Stir in egg yolks. Season generously with salt and pepper.

4. Preheat oven to 375°F (190°C).

5. Generously butter then crumb, using fine bread crumbs, six 1-cup (250-mL) ramekins.

6. Beat egg whites to stiff peaks; fold into potato mixture in thirds. Divide between ramekins and bake for 50 to 55 minutes or until tops are golden and soufflés have risen.

7. Meanwhile, if desired, fry sage leaves to use as garnish: heat a ½ inch (1 cm) depth of oil in a small pot. Once shimmering, fry sage leaves in batches for 15 to 20 seconds or until crisp; remove with a slotted spoon; drain on a papertowel- lined plate. Garnish each soufflé with a few leaves and serve at once.
SHARE