Posh French Mash
Hiver 2005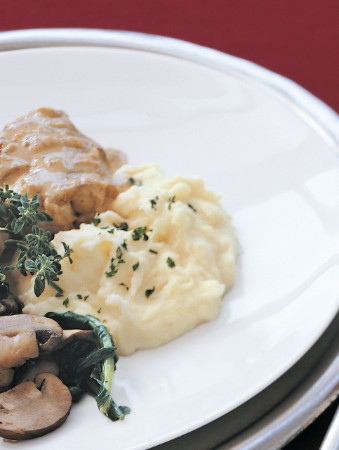 Posh French Mash
Hiver 2005
BY: Julia Aitken
Not to be confused with Aligoté wine from Burgundy, this unctuous version of mashed potatoes is called aligot, and turns up on the menus of many simple bistros throughout France as the perfect side for just about anything.
2 lb (1 kg) Yukon gold potatoes, peeled and cut into 2-inch (5-cm) chunks
4 cloves garlic, peeled
½ cup (125 mL) milk
3 tbsp (45 mL) butter
1 1/3 cups (325 mL) shredded Gruyère cheese
¼ tsp (1 mL) salt
¼ tsp (1 mL) black pepper
2 tbsp (25 mL) chopped fresh parsley
1. Put potatoes and garlic in a large saucepan and add enough cold water just to cover them. Bring to a boil over high heat. Reduce heat to medium-low. Simmer, covered, 20 to 25 minutes, until potatoes and garlic are very tender.

2. Drain well, then return potatoes and garlic to saucepan and put saucepan over low heat for a minute or so to dry out potatoes, shaking saucepan to prevent them from sticking.

3. Meanwhile, combine milk and butter in a small microwave-safe bowl. Microwave on high (100 %), 1 to 2 minutes, until milk is steaming and butter starts to melt. Add milk mixture, Gruyère, salt and pepper to potatoes. Mash roughly with a fork. Using an electric mixer, beat potatoes until very smooth (be careful not to overbeat or potatoes will become gluey). Taste, and add more salt and pepper if necessary. Spoon into a warm serving dish, sprinkle with parsley and serve at once.
SHARE