Porterhouse Steak
Été 2007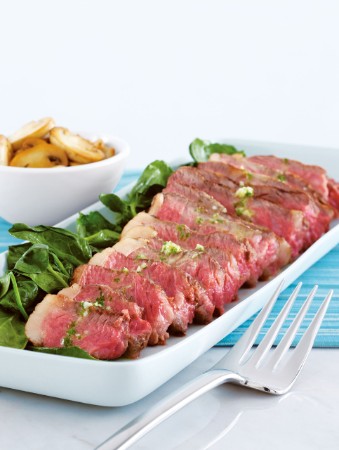 Porterhouse Steak
Été 2007
BY: Lucy Waverman
Slice steaks in slices serving a little filet and a little sirloin to each person.
2 porterhouse steaks, about 1½-inches (4-cm) thick
1 tbsp (15 mL) olive oil
Kosher salt and freshly ground pepper
½ tsp (2 mL) dried thyme

Garlic Butter
½ cup (125 mL) butter, softened
½ tsp (2 mL) chopped garlic
1 tsp (5 mL) lemon juice
1 tbsp (15 mL) chopped parsley
Salt and freshly ground pepper
1. Preheat barbecue to high.

2. Brush steaks lightly with oil and season with salt, pepper and thyme just before grilling.

3. Grill about 5 minutes per side for rare, 6 minutes for medium-rare or use an instant-read thermometer to get the desired doneness, 125°F to 135°F (50° to 60°c). Let steaks rest for 5 minutes.

4. Beat together butter, garlic, lemon juice, parsley, salt and pepper. Brush steaks with garlic butter.
SHARE