Pork, Mushroom and Squash Pot Pie
Temps des Fêtes 2009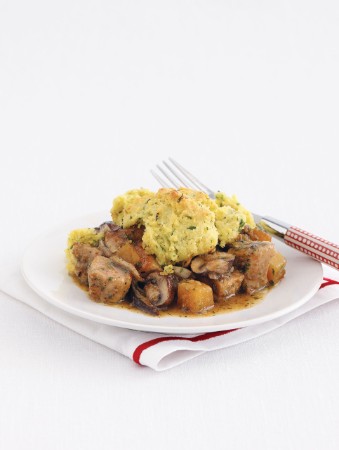 Pork, Mushroom and Squash Pot Pie
Temps des Fêtes 2009
BY: Emily Richards
A showcase of fall harvest rolled into one dish. Tender pork is the perfect match with mushrooms and sweet squash in gravy. Be sure to try this pie with a Cornmeal Herb Biscuit topping (as in photo). Omit paprika, lard and egg, combine remaining dry ingredients, add 1 tbsp (15 mL) baking powder and cut in ¾ cup (175 mL) cubed butter until coarse crumbs form. Drizzle in ¾ cup (175 mL) milk and stir with fork until dough comes together. Using a large spoon, form 6 or 8 biscuits, place on top of meat mixture and bake as below or until biscuits are no longer doughy inside. If you prefer more of a dumpling texture, omit baking powder and bake for an additional 6 minutes.
3 tbsp (45 mL) all-purpose flour
2 tsp (10 mL) dried thyme
¼ tsp (1 mL) each salt and pepper
2 lbs (1 kg) boneless pork loin
3 tbsp (45 mL) vegetable oil
2½ cups (625 mL) beef broth
1 lb (500 g) mixed exotic mushrooms (such as shiitake, oyster or cremini), sliced
1 onion, diced
4 cloves garlic, minced
¼ cup (50 mL) chopped fresh Italian parsley
3 cups (750 mL) chopped butternut squash

Cornmeal Herb Pastry
1 cup (250 mL) all-purpose flour
1 cup (250 mL) cornmeal
2 tbsp (25 mL) chopped fresh parsley
1 tbsp (15 mL) paprika
½ tsp (2 mL) dried thyme
¼ tsp (1 mL) salt
¾ cup (175 mL) lard
1 egg, lightly beaten
1. Combine flour, thyme, salt and pepper in shallow dish; set aside.

2. Trim visible fat from pork and cut into bitesize pieces. Toss pork with flour mixture.

3. Heat 2 tbsp (25 mL) of the oil in large Dutch oven over medium-high heat and brown pork on all sides in batches as necessary. Add more of the oil if necessary. Remove to plate.

4. Add ½ cup (125 mL) of the broth to pan and cook, stirring up brown bits. Add mushrooms, onion and garlic and any remaining flour mixture and cook, for about 8 minutes or until golden and water has evaporated from mushrooms. Add parsley and cook, stirring for 1 minute. Add remaining beef broth, browned pork and squash and bring to a boil. Reduce heat and simmer for about 20 minutes or until squash and pork are tender. Let cool.

5. For pastry, combine flour, cornmeal, parsley, paprika, thyme and salt in large bowl. Cut in lard until coarse crumbs form. Drizzle egg over and toss to combine with fork. Add up to 2 tbsp (25 mL) water if necessary to help bring dough together. Using hands, knead dough together. Place on floured surface and roll out to fit 12-cup (3-L) casserole dish. Using a 3-inch (8-cm) cookie cutter, cut out 4 pieces of the dough for vent holes.

6. Preheat oven to 375°F (190°C).

7. Pour pork and squash mixture into casserole dish. Lay pastry overtop mixture.

8. Bake on centre rack of oven for about 30 minutes or until golden brown and bubbly.
SHARE