Pork Tenderloin with Passion-Fruit Glaze
Temps des Fêtes 2014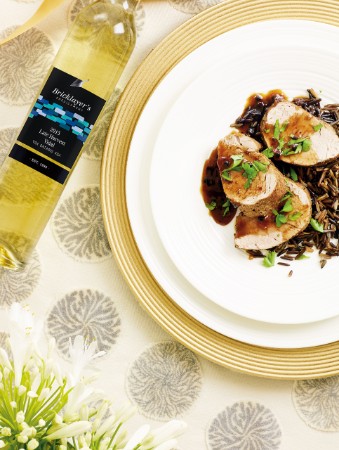 Pork Tenderloin with Passion-Fruit Glaze
Temps des Fêtes 2014
BY: Lucy Waverman
A perfect sauce to bring out the sweetness of the pork. It is also good with veal chops and chicken. Fresh passion-fruit is available at many grocery stores.
1 tsp (5 mL) ground fennel
1 tsp (5 mL) ground coriander
¼ tsp (1 mL) cinnamon
Salt and freshly ground pepper
1 lb (500 g) pork tenderloin
2 tbsp (30 mL) olive oil
Pulp of 1 passion-fruit
⅓ cup (80 mL) late harvest Vidal
1 cup (250 mL) chicken stock
Pinch red pepper flakes
2 tbsp (30 mL) balsamic vinegar
1 tbsp (15 mL) brown sugar

GARNISH
2 tsp (10 mL) chopped fresh parsley
1 Combine fennel, coriander and cinnamon. Season with salt and pepper. Sprinkle spice mixture over pork.

2 Heat oil over medium-high heat in a skillet large enough to hold pork, or cut the meat into large sections to fit into the pan. Sear pork on all sides until browned, about 2 minutes a side. Remove pork to a plate.

3 Add passion-fruit pulp, late harvest Vidal, stock, pepper flakes, vinegar and sugar. Bring to a boil and return pork to pan. Reduce heat to medium-low. Cover skillet and cook tenderloin for 10 to 12 minutes, or until a touch of pink is left in the centre.

4 Remove pork and let rest 5 minutes.

5 Bring liquid in pan to a boil, then reduce heat to low and simmer for 5 to 7 minutes, or until thickened.

6 Slice pork and drizzle with sauce. Garnish with chopped parsley. Serve with rice and beans or wild rice.
SHARE