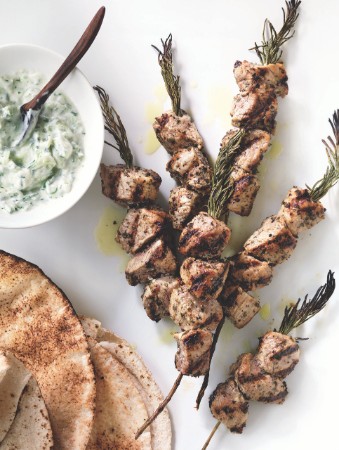 BY: Lucy Waverman
Souvlaki means "little skewers" in Greek and in Greek cooking refers to skewered meats such as chicken, pork, lamb, beef or veal. These are usually very simple and are served with tzatziki and a tomato and onion salad. You can sometimes find wonderful thick plain yogurt to use for the sauce, but I make my own by placing it in a strainer lined with a paper towel, setting the strainer in a bowl and letting it sit in the fridge overnight.
2 tbsp (30 mL) olive oil
2 tbsp (30 mL) lemon juice
1 tbsp (15 mL) chopped fresh oregano
1 tsp (5 mL) chopped garlic
1½ lbs (750 g) pork tenderloin, cut in 1-inch (2.5-cm) cubes
Salt and freshly ground pepper

YOGURT SAUCE
2 cups (500 mL) plain yogurt, drained to yield
1 cup (250 mL) thick yogurt
½ cup (125 mL) grated cucumber, liquid squeezed out
3 tbsp (45 mL) chopped green onion
2 tbsp (30 mL) chopped coriander
1 tsp (5 mL) chopped garlic
3 tbsp (45 mL) red wine vinegar
2 tbsp (30 mL) olive oil
1 Combine olive oil, lemon juice, oregano and garlic in a bowl. Add pork and toss to coat. Season pork with salt and pepper. Divide pork between 4 skewers or 8 rosemary spears and set aside.

2 Combine yogurt, grated cucumber, green onion, coriander, garlic, vinegar and olive oil. Season to taste with salt and pepper.

3 Preheat grill to high.

4 Place pork skewers on grill and grill all four sides for 2 to 3 minutes a side, 8 to 12 minutes total, or until pork is cooked through with just a tinge of pink in the centre. Serve with warmed pita breads and yogurt sauce.
SHARE