Pork Roast with Caramelized Pears, Cranberries & Chestnuts
Automne 2009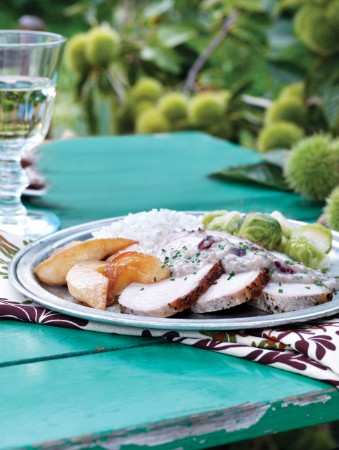 Pork Roast with Caramelized Pears, Cranberries & Chestnuts
Automne 2009
BY: Marilyn Bentz-Crowley
Basmati rice and hot green vegetables are perfect accompaniments for this richly sauced roast. Choose a single pork loin, not a stacked and tied double-loin roast and never a salty "seasoned roast." Chives, a worthy garden herb, tolerate many conditions and produce from early spring until late fall—and survive our winters year after year!
Roast
1¾ to 2 lbs (875 g to 1 kg) boneless pork loin roast
Salt and freshly ground pepper
1 tbsp (15 mL) Dijon mustard, preferably green-peppercorn variety
3 large almost ripe Bosc or other pears
1 tbsp (15 mL) granulated sugar
1 tbsp (15 mL) unsalted butter, melted

Sauce

2 tbsp (25 mL) unsalted butter
3 to 4 oz (90 to 125 g) cleaned chestnuts,
finely chopped, about ⅔ cup (150 mL)
2 tbsp (25 mL) all-purpose flour
1 cup (250 mL) dry white wine such as Pinot Grigio
1 cup (250 mL) chicken broth or stock
½ cup (125 mL) whipping cream
⅓ cup (75 mL) dried cranberries
¼ cup (50 mL) snipped chives or 2 green onions,
thinly sliced
Salt and freshly ground pepper
1. Preheat oven to 400°F (200°C).

2. Coat a large pan, such as base of a broiling pan, with cooking spray. Trim off and discard as much pork fat as possible. Lightly season meat with salt and freshly ground black pepper; spread Dijon over top and sides of meat. Roast, uncovered, 30 minutes.

3. Meanwhile, peel, core and slice pears. Toss slices with sugar and melted butter. Arrange around roast in a single layer after initial baking period. Continue roasting, stirring pears once, for another 20 to 25 minutes or until meat thermometer reads 160°F (70°C) and juices run clear. Push pears to one side of roasting pan, away from pan juices. Cover roast and pears with foil; let rest while preparing sauce.

4. Heat butter in frying pan over medium heat until bubbly. Add chestnuts; sauté 3 minutes or until lightly browned. Stir in flour; cook 1 minute. Add wine and broth. Bring to a boil over medium-high; skim off any foam that forms. Boil 3 to 5 minutes or until thickened like gravy. Add whipping cream, cranberries and chives. Boil a minute or 2 to combine and thicken. Taste and season with salt and freshly ground black pepper as needed; keep warm.

5. Slice pork; arrange with pears on warmed serving plates on top of hot basmati rice, if desired. Spoon sauce over pork; sprinkle with additional chives. Pass any remaining sauce at table.
SHARE