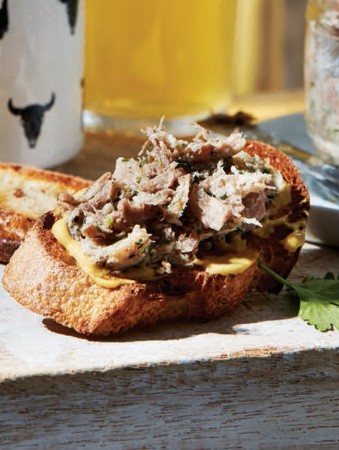 BY: Tonia Wilson-Vuksanovic
The traditional recipe for rustic French rillettes gets a contemporary update with some bright flavours from lemon and fresh cilantro. Don't avoid incorporating the pork fat, it's what makes the dish delicious!
2 bay leaves
1 tsp (5 mL) whole coriander seed
3 whole cloves
1 tbsp (15 mL) lemon juice
½ cup (125 mL) water
1 lb (455 g) pork shoulder, cut into 1 inch (2.5 cm) pieces
1½ lbs (680 g) pork belly, sliced into 1 inch (2.5 cm) pieces
1 tsp (5 mL) salt
1 tsp (5 mL) lemon zest, grated finely on a rasp
2 tbsp (30 mL) fresh cilantro, finely chopped
Freshly ground pepper to taste
Good quality French baguette, sliced ½ inch (1 cm) thick and lightly toasted
Dijon mustard to taste
1. Preheat oven to 275°F (140°C).

2. To a large pot, add the bay leaves, coriander seed, cloves, lemon juice and ½ cup (125 mL) water. Place the pork pieces on top and sprinkle with salt.

3. Cover with lid and place in preheated oven. Cook for 2½ hours until the meat is tender and falls apart easily.

4. When pork is ready, strain the liquid from the solids, place the liquid in a small pan and reduce over medium-high heat until only the fat remains; there should be about ½ cup (125 mL) total. While liquid is reducing, use 2 forks to shred the pork. Discard any hard bits of fat along with the cloves, bay leaves and any coriander seeds. Once the pork is shredded, stir in the pork fat to fully combine.

5. Stir in the lemon zest, cilantro and pepper to taste. Cover and refrigerate for at least 3 hours before serving.

6. Divide rillettes between 6 ramekins or serve in a decorative jar or bowl. Serve with crusty bread smeared with good Dijon mustard to taste.
SHARE