Pork Pâté en Croûte
Automne 2013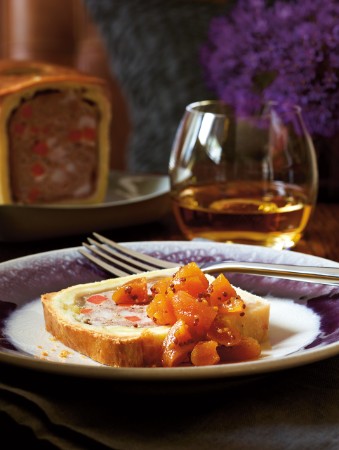 Pork Pâté en Croûte
Automne 2013
BY: Christopher St. Onge
Don't let the length of the recipe deter you from trying this beautiful nibble. Each step is both simple and familiar, and the result is greater than the sum of its parts. Be sure to allow the loaf to cool for the indicated length of time before removing from pan, as the crust is quite tender when hot.
PASTRY
1½ cups (375 mL) all-purpose flour
½ tsp (2 mL) salt
8 tbsp (1 stick) butter
1 egg, lightly beaten
2 tbsp (30 mL) milk

FILLING
1 tbsp (15 mL) butter
½ cup (125 mL) diced onion
3 tbsp (45 mL) finely diced celery
⅓ cup (80 mL) diced carrot
¾ cup (175 mL) water
1 whole clove
1 bay leaf
6 oz (175 g) pork belly
12 oz (375 g) lean ground pork
1 tsp (5 mL) ground cloves
¼ tsp (1 mL) ground nutmeg
¼ tsp (1 mL) salt

5 thin slices prosciutto
1 egg lightly beaten
2 tsp (10 mL) gelatin
1 For the pastry, add flour and salt to food processor; pulse to combine. Add butter and pulse until mixture resembles coarse meal, about 5 seconds. In a small bowl, whisk together egg and milk; with the motor running add egg mixture through feed tube. Process until mixture begins to clump together, about 5 seconds longer. Turn out onto a lightly floured surface. Using your hands, form dough into a disk; wrap snugly in plastic wrap and refrigerate for 1 hour.

2 Meanwhile, melt butter over medium heat in a large sauté pan with a tight-fitting lid. Cook onion for 2 to 3 minutes or until translucent. Add celery and carrot to pan and cook, stirring often, 5 minutes longer. Add ¾ cup (175 mL) water, clove and bay leaf to pan; cover and cook for 12 minutes or until tender but not mushy. Remove vegetables with slotted spoon to a plate; discard clove and bay leaf. Reserve liquid.

3 Using a sharp knife, separate fat from pork belly; set fat aside. Combine pork belly flesh, ground pork, cloves, nutmeg and salt in a food processor; pulse until finely ground. Turn out into a large mixing bowl.

4 Slice pork belly fat into ¼-inch (5-mm) dice. Add to bowl along with vegetables and, using your hands, mix carefully to combine.

5 Arrange oven racks in middle and bottom positions. Preheat oven to 425°F (220°C). Line a 3 x 7-inch (8 x 18-cm) loaf pan with a 3-cup (750 mL) capacity neatly with foil, allowing for overhang to aid in removing pâté later.

6 Roll out pastry to a 13 x 11-inch (33 x 28‑cm) rectangle. Cut a strip 11 x 3 inches (28 x 8 cm) and set aside. Gently lift larger piece and carefully tuck to fit into loaf pan. Line pastry with prosciutto ensuring all pastry is covered; trim pastry to ½-inch (1-cm) overhang. Pack meat mixture into pan. Turn pastry overhang over meat and brush with egg. Place smaller rectangle of dough along length of pan; trim to fit flush with pan. Press firmly to adhere.

7 Using a ¾-inch (2-cm) round cutter, cut hole in centre top of loaf. Brush top of pastry with egg. Using a small strip of parchment, form into a chimney shape and tuck into hole.

8 Place loaf on centre rack and baking sheet to catch drippings on bottom; bake for 15 minutes, reduce heat to 375°F (190°C) and continue to cook for 50 to 55 minutes or until internal temperature reaches 165°F (73°C). Remove to a rack and allow to cool for 30 minutes.

9 Sprinkle gelatin over ¼ cup (60 mL) cool water in a small bowl and allow to rest for 10 minutes. Heat reserved vegetable cooking liquid and pour over gelatin; whisk to dissolve. Spoon or pour mixture into hole on top of loaf; allow to settle into crevices between pâté and crust (you may not require all of the liquid).

10 Refrigerate loaf until cool, about 3 hours. Use foil overhang to gently remove pâté from pan. Cut into ¾-inch-thick (2-cm) slices and serve with a spoonful of Apricot Mostarda (recipe follows).

APRICOT MOSTARDA

Inspired by a classic northern Italian condiment available only in specialty shops, this version uses commonly available ingredients and is a cinch to make. While it's the perfect accompaniment to our paté, it makes for a delicious relish for roasted pork too.

20 dried apricots, quartered
¼ cup (60 mL) white wine
¼ cup (60 mL) water
1 tsp (5 mL) white wine vinegar
1 tbsp (15 mL) sugar
2 tsp (10 mL) mustard powder
2 tbsp (30 mL) whole-grain mustard
1 Combine apricots, wine, water, vinegar, sugar and mustard powder in a small saucepan. Bring to a boil over medium heat, reduce to low and simmer for 15 minutes or until apricots are tender and remaining liquid is syrupy. Remove from heat and stir in whole grain mustard; place in a small glass jar or bowl, cover and refrigerate for up to 1 week.
Makes approx. ½ cup (125 mL)
SHARE