Pork Dumplings
Spring 2008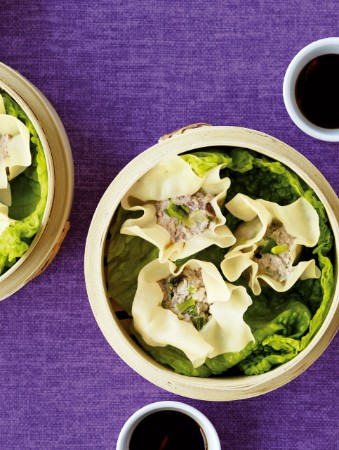 Pork Dumplings
Spring 2008
BY: Tonia Wilson-Vuksanovic
If you do not have traditional bamboo steaming baskets, a metal steamer works just as well. These tasty morsels are best eaten right from the steamer.
1 lb (500 g) medium ground pork
½ cup (125 mL) green onions, finely chopped
2 tbsp (25 mL) fresh cilantro, finely chopped
2 tsp (10 mL) fresh ginger, finely grated
1 cup (250 mL) shiitake mushrooms, finely chopped
2 tbsp (25 mL) soy sauce
1 tsp (5 mL) sesame oil
1 tsp (5 mL) sugar
2 tsp (10 mL) cornstarch
1 egg white
1 pkg fresh wonton wrappers
Cabbage leaves, napa or Savoy variety
1. Mix together the pork, green onions, cilantro, ginger, mushrooms, soy sauce, sesame oil, sugar, cornstarch and egg white in a large bowl until well combined.

2. Working with 6 wrappers at a time, use fingertip to wet edges of each wrapper with water. Top each wrapper with 2 tsp (10 mL) of pork mixture.

3. Bring the 4 corners up towards the top of the filling, pleat the sides of the wrapper to form a cup and press the wrapper snugly around the filling. The dumpling does not need to be fully enclosed at the top. Keep filled dumplings covered with dampened tea towel.

4. Continue to fill the rest of the dumpling wrappers until all the pork mixture is finished.

5. Place bamboo steamers in a large wok or pot and add enough water to come just below the base of the bottom steamer.

6. Line each basket with a single layer of cabbage leaves to prevent the dumplings from sticking to bottom.

7. Place a single layer of dumplings atop leaves in each steamer basket, making sure they don't touch each other.

8. Cover and simmer for 8 minutes or until pork is cooked through (do not overcook).

9. Work in batches to continue cooking the remaining dumplings.

10. Serve warm with the Spicy Lime Dipping Sauce (recipe follows).

Spicy Lime Dipping Sauce
¼ cup (50 mL) water
¼ cup (50 mL) dark brown sugar
¼ cup (50 mL) soy sauce
1 tbsp (15 mL) lime juice
½ fresh small red chili (or to taste), finely slivered
1. In the microwave, heat water and brown sugar to dissolve sugar, about 30 seconds.

2. Stir in soy sauce, lime juice and chili; let sit 20 minutes to allow flavours to blend.
SHARE