Pork Chops in Exotic Mushroom Sauce
Spring 2009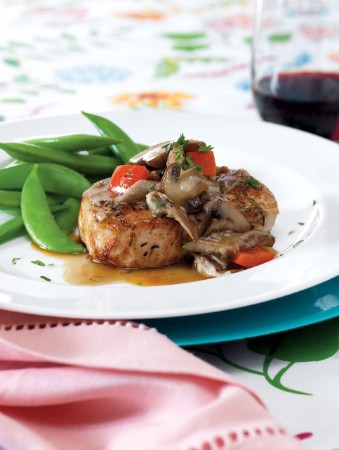 Pork Chops in Exotic Mushroom Sauce
Spring 2009
BY: Emily Richards
This classic is usually made with a cream sauce or cream soup base. By using a variety of mushrooms and sodium-reduced chicken stock, the flavour remains high but the sodium and fat are reduced. A winning main course served with tender crisp green beans or snap peas.
1 tsp (5 mL) dried thyme
1⁄4 tsp (1 mL) pepper
4 lean boneless pork chops
2 tsp (10 mL) canola oil
1 lb (500 g) exotic mushrooms, sliced (a variety, such as shiitake, oyster and cremini)
1 small red pepper, chopped
2 tbsp (25 mL) dry sherry
1 tbsp (15 mL) all-purpose flour
1 1⁄2 cups (375 mL) sodium-reduced chicken stock
2 tbsp (25 mL) chopped fresh Italian parsley
1. Sprinkle thyme and pepper over pork chops.

2. Heat oil in large nonstick skillet over medium-high heat. Brown pork chops on both sides and remove to plate. Return skillet to medium-high heat and cook mushrooms and red pepper, stirring for about 8 minutes or until no liquid remains. Add sherry and cook, stirring for 1 minute or until evaporated.

3. Sprinkle with flour and stir until combined. Pour in stock and bring to boil.

4. Cook, stirring for about 5 minutes or until beginning to thicken. Add browned pork chops and cook, turning once for about 8 minutes or until slight hint of pink remains in pork. Sprinkle with parsley before serving.
SHARE