Pork Chop with Plum Chili Glaze
Été 2006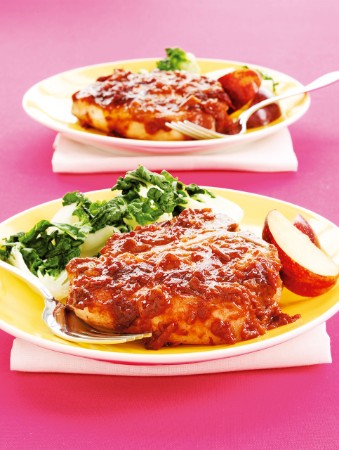 Pork Chop with Plum Chili Glaze
Été 2006
BY: Jennifer McLagan
In this recipe the flavour of the sweet plums is given depth by the dried ancho chili. This glaze can also be used on chicken or ribs.
Glaze
1 ancho chili
2 to 3 ripe but firm plums (about 10 oz/300 g)
2 tbsp (25 mL) brown sugar
½ tsp (2 mL) kosher salt



1.  Remove the stem and seeds from the chili, and discard. Break the chili into pieces and place in a small bowl. Pour over ½ cup (125 mL) boiling water and leave to soak for 15 minutes.

2.  Dice the plums and place them in a small saucepan with the sugar. Add the salt and the softened chili and the soaking water. Place over medium heat and bring to a boil. Boil gently, uncovered, stirring often for 20 minutes or until the plums are very soft.
Makes about 1 cup (250 mL)
4 pork chops cut 1-inch (2.5-cm) thick
Salt and freshly ground pepper
2 tbsp (25 mL) vegetable oil
1. Season the chops with salt and pepper.

2. In a frying pan with a lid, heat the oil over high heat. Add the chops and brown well on both sides, about 3 minutes per side. Transfer the chops to a plate. Discard the fat from the pan and return to the heat.

3. Pour in ½ cup (125 mL) water and deglaze the pan by scraping up the browned bits from the bottom. Add the chops and any juices and lower the heat. Spoon the plum glaze over the chops, cover, and cook gently for15 minutes or until juices run clear.
SHARE