Pork & Shrimp Jambalaya
Early Summer 2016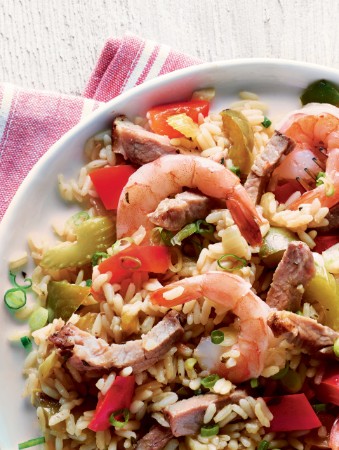 Pork & Shrimp Jambalaya
Early Summer 2016
BY: Jennifer MacKenzie
This version of jambalaya is based on the Cajun style, cooked in broth rather than the more common tomato-based variety, and, as a handy shortcut, it incorporates leftover roast pork rather than sausage. No worries about the change from tradition though as it does have the essential vegetables and seasonings and enough kick to give you that Louisiana sensation. You might even find yourself making a pork roast more often just to whip up the leftovers into this one-pot, spicy number. The parboiled (or "converted" as in Uncle Ben's brand) long-grain rice gives the best texture, cooking evenly without getting mushy.
2 tbsp (30 mL) vegetable oil
1 onion, chopped
3 stalks celery, sliced
3 cloves garlic, minced
1 sweet green pepper, chopped
1 sweet red pepper, chopped
1 bay leaf
2 tsp (10 mL) chopped fresh thyme or ½ tsp (2 mL) dried
Salt and freshly ground black pepper
¼ tsp (1 mL) cayenne pepper
1 cup (250 mL) long-grain parboiled (converted) rice
2 cups (500 mL) no-salt-added chicken broth
2 cups (500 mL) julienned leftover Provençal Pork Roast (recipe follows)
8 oz (250 g) large shrimp, peeled and deveined (tails left on)
1 lemon
2 green onions, thinly sliced
Hot pepper sauce
1 Heat oil over medium heat in a large skillet. Sauté onion and celery for 5 minutes or until onion starts to soften. Add garlic, green pepper, red pepper, bay leaf, thyme, 1 tsp (5 mL) salt, ½ tsp (2 mL) black pepper and cayenne and sauté for 5 minutes or until peppers start to soften and onion is light golden.

2 Stir in rice until well coated. Stir in broth and bring to a boil. Cover, reduce heat to low and simmer for 15 minutes or until rice is almost tender.

3 Gently stir pork into rice mixture, then smooth top. Nestle shrimp on top of rice. Cover and simmer for about 10 minutes or just until rice is tender and shrimp are pink and just firm. Remove from heat and let stand for 3 minutes.

4 Cut a quarter from the lemon lengthwise. Set the quarter aside and cut remaining lemon into 4 wedges.

5 Discard bay leaf from rice. Squeeze quarter lemon evenly over jambalaya and season to taste with salt and pepper. Spoon jambalaya onto warmed plates, sprinkle with green onions and serve with lemon wedges and hot pepper sauce.
PROVENÇAL PORK ROAST

Garlic, mustard and herbs reminiscent of the south of France add a succulent flavour to this roast and work well in a variety of dishes that take full advantage of the leftovers. Contrary to leaner pork cuts, which should be cooked to medium doneness or less, this well-marbled shoulder cut is best cooked just to well-done for the most tender texture, and don't worry, it stays nice and moist, even with this less typical dry-roasting technique. A probe thermometer inserted in the meat before roasting and left in is best for avoiding opening the oven door too often to check for doneness—which will cool off the roast. Be sure to insert it into the meatiest part, rather than the fat, to get an accurate reading. You should feel firm resistance when you push the probe into the cold meat. The shape/thickness of your roast as well as how it is tied accounts for the widerange of cooking time in step 5.

1 boneless pork shoulder blade (butt) roast, 6 to 7 lbs (2.7 to 3.15 kg) tied
4 cloves garlic
1½ tsp (7 mL) salt
1½ tsp (7 mL) freshly ground pepper
½ cup (125 mL) Dijon mustard
2 tbsp (30 mL) chopped fresh sage
1 tbsp (15 mL) chopped fresh thyme
1 tsp (5 mL) minced fresh rosemary
1 tsp (5 mL) dried lavender flowers, crumbled (optional)
1 Preheat oven to 450°F (230°C).

2 Pat roast dry and place on a rack in a large roasting pan. Cut garlic lengthwise into quarters. Using the tip of a sharp paring knife, cut 16 slits in roast, inserting 1 piece of garlic into each slit as you cut. Rub salt and pepper all over roast.

3 Roast pork for 30 minutes. Turn oven down to 325°F (160°C) and roast pork for 1 hour.

4 Combine mustard, sage, thyme, rosemary and lavender, if using, in a bowl (see TIP).

5 Working quickly, remove roast from oven and spread mustard mixture over top, sides and ends of roast. Return to oven and roast for 1½ to 2½ hours longer, or until a meat thermometer registers 165°F (73°C). Tent with foil and let rest for 20 minutes (the temperature will continue to increase about 5°F/3°C).

6 Cut across the grain (removing string as you slice) to serve warm or let whole roast cool slightly, then cover and refrigerate until chilled, for at least 8 hours to serve cold. Leftovers can be stored in an airtight container for up to 3 days.

TIP If you prefer to use a dried herbes de Provence blend, use 4 tsp (20 mL) in place of the fresh sage, thyme, rosemary and dried lavender. Add the dried herbs to the mustard 2 to 4 hours ahead of the time to spread on the roast to let herbs soften and the flavours bloom.
SHARE