Porcini-Dusted Roast Rack of Veal on Ratatouille Vegetables
Holiday 2017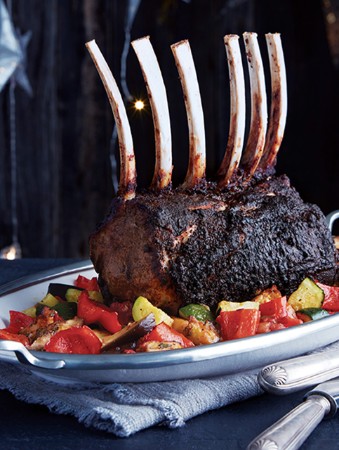 Porcini-Dusted Roast Rack of Veal on Ratatouille Vegetables
Holiday 2017
BY: Jennifer MacKenzie
A rack of veal with a rich brown crust makes for a gorgeous presentation surrounded by colourful roasted ratatouille vegetables. Prep the roast the day ahead to allow the deep mushroom flavour to permeate the meat. This is a relatively quick roast to cook and it'll be ready to serve after less than an hour in the oven. Chop the vegetables as you start cooking the roast, then pop them in partway through cooking and let the vegetables finish as the roast rests. Buy prepared olive oil spray or fill a mister bottle with olive oil. Spraying the oil ensures the mushroom powder will be moist, but not saturated, making for a perfect texture of the crust. Serve soft polenta or risotto on the side to complete the meal.
1½ oz (45 g) dried porcini mushroom slices
Salt and freshly ground pepper
Olive oil spray
1 frenched rack of grain-fed veal (6 ribs), about 4¼ lbs (2.125 kg)
6 plum tomatoes
2 sweet red peppers
1 eggplant, about 1 lb (500 g)
2 zucchini
3 cloves garlic
½ cup (125 mL) olive oil
1 tsp (5 mL) chopped fresh rosemary, or ¼ tsp (1 mL dried)
1. Working in batches as necessary, grind porcini mushrooms in a spice grinder or high-powered blender until powdered. Transfer to a bowl. Add 2 tsp (10 mL) salt and 1½ tsp (7 mL) pepper; stir well.

2. Spray olive oil evenly over meaty portions of veal and backs of ribs. Line a rimmed baking sheet or shallow baking dish with plastic wrap; place veal in the centre and press mushroom powder evenly over roast, coating meat and backs of ribs. Wrap tightly with plastic wrap, scooping up any powder on the plastic as you wrap. Refrigerate for at least 8 hours or for up to 24 hours.

3. Preheat oven to 450°F (230°C) with racks positioned in middle and lower third of oven. Line 2 large rimmed baking sheets with foil.

4. Spray the centre of 1 prepared baking sheet with oil. Unwrap roast and lightly spray all over with oil to moisten mushroom crust. Place in centre of baking sheet with the rack down. Roast on middle rack in oven for 15 minutes.

5. Reduce oven temperature to 350°F (180°C) and roast veal for 20 minutes.

6. Meanwhile, cut tomatoes, red peppers and eggplant into 1-inch (2.5-cm) chunks; cut zucchini into ¾-inch (2-cm) chunks. Finely chop garlic. Combine vegetables in a large bowl; add oil, 1 tsp (5 mL) salt, rosemary and pepper to taste and toss to coat vegetables well. Spread about two-thirds of the vegetables onto remaining prepared baking sheet.

7. Remove roast from oven and scatter remaining third of vegetables around roast, perching the roast against vegetables so it sits upright.

8. Return veal with vegetables to middle rack and second sheet of vegetables to lower rack. Roast for about 15 minutes or until a thermometer inserted in the thickest part of meat registers 130°F (54°C) for medium-rare or to desired doneness (the temperature will continue to rise slightly while roast rests). Transfer roast to a platter, tent with foil and let rest for 15 minutes.

9. While veal rests, increase the oven temperature to 400°F (200°C) and return vegetables to oven. Roast for 10 to 15 minutes longer or until tender and browned. Season to taste with salt and pepper.

10. To serve, arrange vegetables around roast on platter. Carve roast between bones into chops; or cut into thinner slices.
SHARE