Porcini, Herb & Cauliflower Soup
Holiday 2018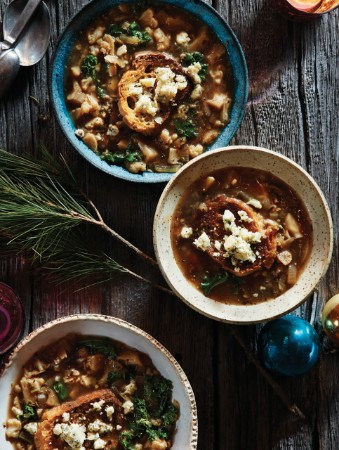 Porcini, Herb & Cauliflower Soup
Holiday 2018
BY: Christopher St. Onge
This warming vegetable soup is perfect fare for a blustery night. It stands up well, and in fact improves in flavour, when made a couple of days ahead of time. Warm it up once you arrive at the party and garnish with the baguette and cheese just before serving.
1 oz (30 g) dried porcini mushrooms, crumbled
2 cups (500 mL) boiling water
4 tbsp (60 mL) butter, divided
1 small head cauliflower, chopped into rough ½ inch (1 cm) pieces
2 medium onions, sliced
Salt
3 cloves garlic, finely chopped
2 tbsp (30 mL) chopped rosemary
¼ cup (60 mL) loosely packed chopped sage
1 bay leaf
6 cups (1.5 L) water
4 cups (1 L) chopped kale
2 tbsp (30 mL) Worcestershire sauce
Toasted baguette slices to serve
4 oz (115 g) Stilton, crumbled
1. Combine porcini and boiling water in a heatproof bowl; set aside.

2. Melt 2 tbsp (30 mL) butter in a large pot over medium-high heat; add cauliflower and cook until golden, stirring from time to time, about 8 minutes. Scrape into a second heatproof bowl and wipe pot clean.

3. Place pot over medium-low, melt remaining 2 tbsp (30 mL) butter and add onions. Season generously with salt; cover and cook undisturbed for 10 minutes. Remove lid and continue cooking 10 minutes longer, stirring frequently, until caramelized.

4. Meanwhile, strain porcini soaking liquid through a fine mesh sieve and reserve it. Rinse porcini under cool water.

5. Stir garlic, rosemary, sage, bay leaf and porcini mushrooms into onions; fry for 2 minutes until fragrant. Pour water and porcini liquid over; bring to a boil over medium heat. Add kale and Worcestershire sauce, cover and cook for 10 minutes.

6. Stir in cauliflower; boil 5 minutes longer. Divide soup between desired number of bowls and top each with a toasted baguette slice; divide Stilton between the bowls.
SHARE