Poppy Seed Fish
Printemps 2006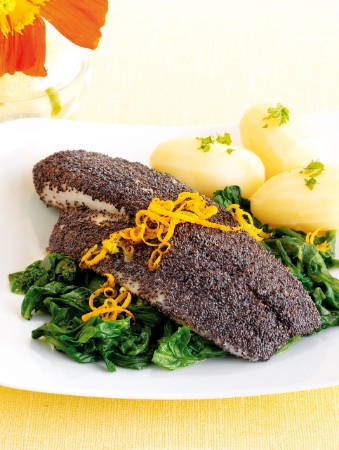 Poppy Seed Fish
Printemps 2006
BY: Jennifer McLagan
The poppy seeds coat the fish, much like bread crumbs, to give this recipe a crunchy texture. This coating is best suited to thin fillets of white fish like sole or striped bass that cook quickly and evenly. All you need is some steamed new potatoes to complete the dish.
4 skinless sole or striped bass fillets
Kosher salt and freshly ground pepper
1 egg white, beaten
¼ cup (50 mL) poppy seeds
1 large orange
3 tbsp (45 mL) olive oil
2 bunches spinach, cooked
2 tbsp (25 mL) unsalted butter
1. Season the fish fillets. Brush the top side of the fillets with the egg white, then sprinkle with the poppy seeds to coat. Zest and juice the orange.

2. In a large frying pan, preferably nonstick, heat the oil over medium heat. Add the fish fillets, poppy-seed side down. Cook the fish for 2 minutes or until it starts to curl. Turn, cover and cook for another 2 minutes or until just cooked. Reheat the spinach.

3. Transfer the fish to a platter and keep warm. Add the butter to the frying pan and place over low heat to melt. Add the orange juice and zest to the pan, stirring to mix with the melted butter.

4. Place the reheated spinach on 4 plates. Top with the fish fillets, then spoon the sauce overtop. Serve immediately.
SHARE