Popcorn Shrimp
Spring 2008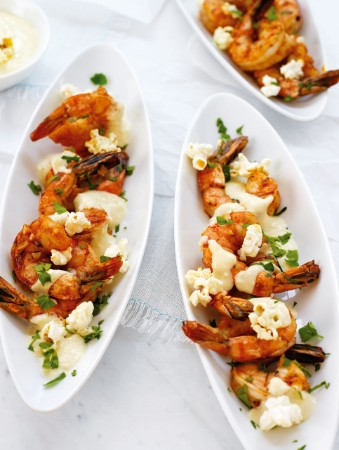 Popcorn Shrimp
Spring 2008
This is Mifsud's take on popcorn shrimp after a dish he tasted at Moto Restaurant in New York. It must be made with buttered popcorn. The sauce thickens with the addition of the popcorn and no additional stabilizers. It is strangely addictive—just like popcorn.
Sauce
1 bag butter flavoured microwave popcorn
1½ cups (375 mL) milk
Salt and freshly ground pepper
1 tsp (5 mL) rice vinegar

Shrimp
1 lb (500 g) shrimp, peeled and deveined
1 tbsp (15 mL) olive oil
1½ tsp (7 mL) chopped garlic
1 tsp (5 mL) hot smoked paprika
Salt to taste
1 tbsp (15 mL) chopped parsley
1. Make popcorn according to package directions. Reserve.

2. Heat 1 cup (250 mL) milk in a saucepan over high heat until you see bubbles around the edges but milk has not yet come to a boil. Add popcorn, reserving ½ cup (125 mL) for garnish, and stir to combine.

3. Transfer mixture to a blender and blend until smooth. Strain mixture back into pot and heat over low heat. The sauce will be thick. Add remaining ½ cup (125 mL) milk and season with salt and pepper and rice vinegar. Keep warm over low heat until needed.

4. Preheat broiler to high.

5. Place shrimp in a bowl. Add olive oil, garlic and paprika and toss to combine. Season with salt. Transfer shrimp to a baking sheet and broil for 2 to 3 minutes or until shrimp is pink and slightly curled.

6. Remove shrimp to a serving dish, drizzle with reserved popcorn sauce and sprinkle with parsley. Garnish with reserved ½ cup (125 mL) popcorn.
SHARE