Ponzu-Glazed Chicken Sandwiches with Tomato Relish and Wasabi Mayonnaise
Hiver 2007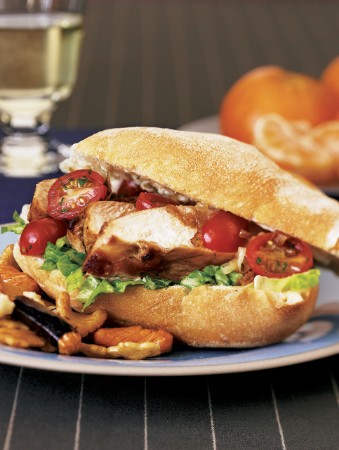 Ponzu-Glazed Chicken Sandwiches with Tomato Relish and Wasabi Mayonnaise
Hiver 2007
BY: Marilyn Bentz-Crowley
Ponzu sauce is made with the juice of a common Japanese fruit called yuzu-a bumpy citrus fruit. For Canadians, it is easiest to head to the Asian market to purchase a bottle of ponzu sauce, which is salty with soy, sour with citrus and has just a touch of sweetness. Ponzu can be a dipping sauce or slathered over grilled poultry, shrimp or pork for a luscious glaze.
4 skinless, boneless chicken breasts or 8 thighs
½ cup (125 mL) ponzu sauce
2 tbsp (25 mL) peanut or canola oil, divided
1 cup (250 mL) grape or cherry tomatoes
¼ cup (50 mL) finely chopped sweet onion
1 tbsp (15 mL) seasoned rice wine vinegar
½ tsp (2 mL) dark sesame oil
1 tbsp (15 mL) finely chopped fresh parsley
? cup (75 mL) mayonnaise
1 to 2 tsp (5 to 10 mL) prepared wasabi paste
4 large crusty sandwich rolls
4 romaine lettuce leaves
¼ cup (50 mL) crispy fried shallots
1. Place chicken in a plastic bag; pour in ponzu sauce and 1 tbsp (15 mL) peanut oil. Seal and refrigerate 30 minutes while continuing with recipe.

2. Make tomato relish by cutting tomatoes into halves or quarters. In a medium bowl, stir with onion, vinegar, sesame oil, remaining tbsp (15 mL) peanut oil and parsley. In another small bowl, stir mayonnaise with wasabi. Set both aside.

3. Preheat barbecue or broiler until medium-hot.

4. Drain chicken, reserving marinade. Grill 3 minutes; brush both sides with sauce and turn. Grill another 3 minutes and repeat brushing and turning. After another 3 minutes, finally brush again and turn. Continue grilling for another 3 to 6 minutes or until chicken is cooked. Discard remaining marinade.

5. Assemble sandwiches by opening rolls and generously coating inside with wasabi mayonnaise. Coarsely cut romaine into strips and heap on the bottom half. Remove chicken from grill; diagonally cut into 3 or 4 thick slices; place on lettuce. Top with a heaping spoonful of tomato relish and a sprinkling of shallots. Replace bun top; serve right away with crunchy rice-cracker snack mix and mandarin oranges.
SHARE