Pomodoro Trattoria Meatballs with Pomodoro Tomato Sauce
Autumn 2015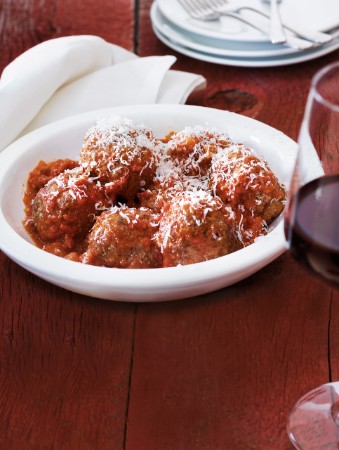 Pomodoro Trattoria Meatballs with Pomodoro Tomato Sauce
Autumn 2015
BY: Pomodoro Trattoria
The signature dish of Wellington's Pomodoro Trattoria proves once again that there aren't many things as comforting as a warm bowl of meatballs in tomato sauce. Serve with a loaf of crusty bread for dipping in the rich tomato sauce or over spaghetti with a grating of Parmigiano-Reggiano. Make the meatballs as the sauce simmers.
POMODORO SAUCE
2 tbsp (30 mL) extra virgin olive oil
¾ cup (175 mL) diced onion
2 cloves garlic, thinly sliced
¼ cup (60 mL) white wine
1 can (793 mL) San Marzano tomatoes, roughly chopped
Salt and pepper to taste

POMODORO TRATTORIAMEATBALLS
¼ cup (60 mL) milk
1 large egg
½ cup (125 mL) fresh bread crumbs
2 tbsp (30 mL) extra virgin olive oil
¼ cup (60 mL) finely diced white onion
2 tsp (10 mL) dried oregano
2 tsp (10 mL) minced garlic
1 lb (500 g) lean ground beef
Salt and pepper to taste
1 To make tomato sauce, place a wide ovenproof sauté pan or skillet on medium heat. Add olive oil and sauté onions until translucent, then add the garlic and sauté until fragrant and soft. Deglaze with wine and simmer until reduced by half, about 4 minutes.

2 Add tomatoes and simmer for 35 to 45 minutes or until richly flavoured. Season to taste.

3 To make meatballs, whisk together milk and egg in a large bowl. Stir in bread crumbs.

4 Heat 2 tsp (10 mL) olive oil (reserving remainder) in a skillet. Add onions and sauté until translucent and soft; add the oregano and garlic and stir together. Cool mixture, then add beef and onion mixture to soaked bread crumbs. Season with salt and pepper.

5 Make a small patty and fry, to test the seasoning; adjust if necessary.

6 Shape meat mixture into golf-ball-sized meatballs.

7 Preheat the oven to 400°F (200°C).

8 Add remaining oil to frying pan and sear the meatballs on medium heat until browned on all sides. Place in tomato sauce. Cover with lid or foil, and bake for 15 to 20 minutes, or until cooked through.
SHARE