Grilled Potatoes with Horseradish Aïoli
Début de l'été 2015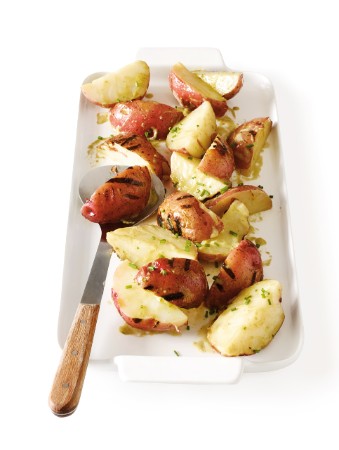 Grilled Potatoes with Horseradish Aïoli
Début de l'été 2015
BY: The Van Groningen Brothers
The easiest and best way to make grilled potatoes. No fiddling and, because they are grilled whole after cooking, they can be boiled ahead of time and grilled when needed.
2 lbs (1 kg) large red skin potatoes
2 tbsp (30 mL) grape-seed oil
Salt to taste

HORSERADISH AÏOLI
1 tsp (5 mL) lemon juice
2 tbsp (30 mL) red wine vinegar
1 egg yolk or 2 tbsp (30 mL) mayonnaise
1 tbsp (15 mL) prepared horseradish
1 clove garlic, coarsely chopped
2 tbsp (30 mL) chopped chives
⅓ cup (80 mL) olive oil
1 Place the potatoes whole into a large pot and cover with cold water. Bring to a simmer and cook until the potatoes are fork-tender, about 20 minutes. Remove from water and allow to cool. Toss with the grape-seed oil and add salt to taste.

2 While cooling, make the aïoli. Add lemon juice, vinegar, egg yolk or mayonnaise, horseradish, garlic and chives to a food processor or blender. Blend for 20 seconds, then with blender still running, drizzle in the olive oil until thickened.

3 Preheat grill to high.

4 Place potatoes on grill, turning occasionally until hot and grill-marked, about 5 minutes. Cut in quarters, place in a bowl and toss with aïoli. Sprinkle with any remaining chives, if desired. Serve hot.
SHARE