Sausage-Stuffed Baked Potatoes
Temps des Fêtes 2007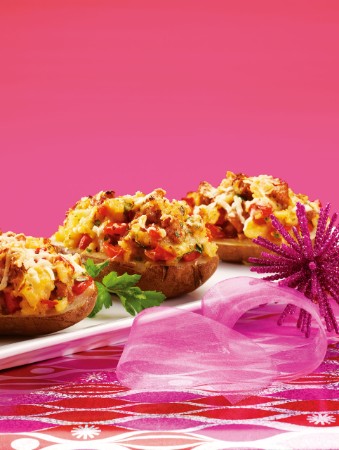 Sausage-Stuffed Baked Potatoes
Temps des Fêtes 2007
BY: Emily Richards
Here is a potato that is really a meal. Stuffed with sausage and cheese, this makes an easy hot meal to enjoy right out of the oven or at room temperature. Snuggle up by the fire and add a green salad so you have plenty of time to enjoy your company or wrap gifts. Use leftover baked potatoes or, using a fork, prick potatoes all over and place in a 400°F (200ºC) oven for about 1 hour or until tender.
2 long baking potatoes, baked
1 tbsp (15 mL) extra virgin olive oil
2 mild Italian sausages, casings removed
1 small onion, finely chopped
4 cloves garlic, minced
½ tsp (2 mL) Italian herb seasoning
½ tsp (2 mL) fennel seeds, crushed
1 red pepper, diced
2 tbsp (25 mL) chopped fresh Italian parsley
¼ tsp (1 mL) salt
¾ cup (175 mL) shredded Asiago cheese
1 egg
1. Cut potatoes in half lengthwise and scoop out inside with small spoon and place in bowl. Set potato shells aside in 13 x 9-inch (3-L) baking pan.

2. Preheat oven to 400°F (200°C).

3. Heat oil in nonstick skillet over medium-high heat and cook sausage, onion, garlic, Italian herb seasoning and fennel, breaking up with wooden spoon or spatula for about 8 minutes or until no longer pink. Add red pepper and cook for 2 minutes. Add to reserved potato and stir to break up potato and combine. Add parsley and salt. Let cool slightly.

4. Stir in ½ cup (125 mL) Asiago cheese and egg until combined well. Spoon filling into potato shells and place. Sprinkle each with remaining cheese.

5. Bake for about 30 minutes or until golden brown and knife is hot when inserted in centre.
SHARE