Pommes Sarladaises
Holiday 2020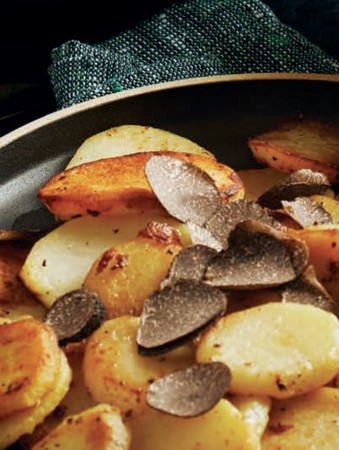 Pommes Sarladaises
Holiday 2020
BY: Christopher St. Onge
I have a hard time imagining a more delicious potato dish than this French classic. Simply cooked in butter and goose fat, something you'll have plenty of as a result of cooking the goose, it's garnished with a shaved black truffle. It's best to prepare the potatoes while the goose is resting and to garnish with truffle just before serving. For purchasing tips as well as thriftier, more widely available options to the black truffle, see TIP below.
3 tbsp (45 mL) goose fat
2 tbsp (30 mL) butter
2 lbs (905 g) small Yukon gold potatoes, peeled and cut into 1/4-inch (5-mm) slices
Salt and freshly ground black pepper
1 small black Périgord truffle, about 1/3 oz (10 g)
1. Melt the goose fat and butter over medium-high heat in a large nonstick skillet. Once the fat is foaming, add potatoes. Season with salt and pepper, cover and cook for 16 to 18 minutes until potatoes are tender and golden, stirring every 4 minutes or so.

2. Turn out into a serving bowl and shave or finely grate truffle (using a mandoline, truffle slicer or microplane) overtop. Serve immediately.
TIP Black Périgord truffles are at their best during the winter months but aren't widely available. You'll need to visit a high-end grocer in hopes of scoring one. If you do find one, it's important that it is fragrant, and it's totally acceptable to ask for a sniff. If it's devoid of aroma, you'll likely waste your money by purchasing. There are other options to the truffle though. More widely available truffle oil will do in a pinch, but seek out one with visible bits of truffle in the oil—this increases the chances that the oil hasn't been artificially flavoured. Another option, truffle butter, is sold in small jars and is just what it sounds like, butter flavoured with bits of truffle. Add a few drops of the oil or 2 tsp (10 mL) of the butter just before serving the potatoes.
SHARE