Pommes à L'huile with Sautéed Leeks and Pine Nuts
Temps des Fêtes 2009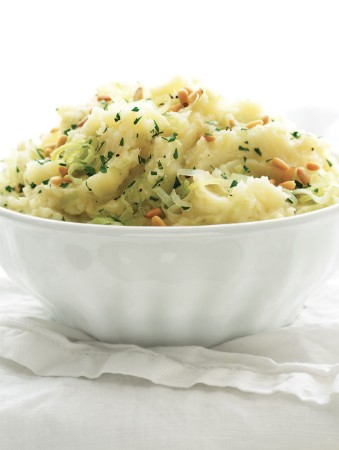 Pommes à L'huile with Sautéed Leeks and Pine Nuts
Temps des Fêtes 2009
BY: Marilyn Bentz-Crowley
This is easily turned into vegetarian fare by using vegetable stock. If making ahead, cut leeks and toast pine nuts in advance; however, cook and mash potatoes at dinnertime.
Potatoes
3 lbs (1.5 kg) russet baking or Yukon Gold potatoes
1 to 2 large whole garlic cloves, peeled
3 to 4 cups (750 mL to 1 L) chicken or vegetable broth
¼ cup (50 mL) extra virgin olive oil
¼ tsp (1 mL) freshly ground black pepper
½ to 1 tsp (2 to 5 mL) salt

Leeks
1 to 2 large leeks
1 tbsp (15 mL) extra virgin olive oil
¼ cup (50 mL) toasted pine nuts
1 tbsp (15 mL) finely chopped fresh parsley
1. Peel and quarter potatoes and add to large saucepan with garlic. Pour enough broth into saucepan to almost cover potatoes and garlic. (If broth is unsalted, add several generous pinches of salt.) Bring to a boil over high heat. Cover, reduce heat to low; cook for 20 to 25 minutes or until fork-tender.

2. Drain broth into heatproof container; reserve. Return potatoes to warm saucepan. Using a potato masher, mash potatoes. Using a fork on a small plate, mash garlic cloves; stir into olive oil along with pepper. Stir oil mixture into potatoes. Then stir in a few spoonfuls of reserved broth as needed for soft, but not soggy, mashed potato texture. Taste; add salt as needed. (Covered potatoes can be kept in a warm spot for up to an hour.)

3. Meanwhile thinly slice white and light green parts of leek; there should be a generous 3 cups (750 mL). Discard root end and deep green parts. (Sliced leeks hold well at room temperature for up to half a day.)

4 Heat oil in a medium frying pan over medium heat. Add leeks; sauté 5 minutes, stirring occasionally, or until leeks begin to soften.

5. Add ¼ cup (50 mL) of reserved broth, cover and lower heat so mixture just simmers for 3 minutes or until leeks are tender. Lightly season with pinches of salt and a few grindings of black pepper. (Refrigerate or freeze remaining broth to use in gravy or soups.)

6. Alternately pile spoonfuls of potatoes and leeks into a warmed serving bowl; swirl with spoon. Sprinkle with pine nuts; garnish with parsley.
SHARE