Pomegranate Sabayon with Roasted Pears
Holiday 2014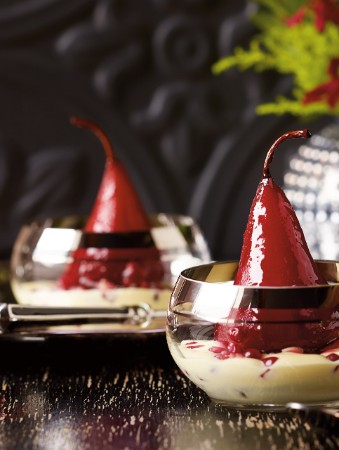 Pomegranate Sabayon with Roasted Pears
Holiday 2014
BY: Lucy Waverman
Bosc pears have a better consistency roasted than other varieties. Sabayon is served warmed. This is a light dessert that's perfect after a heavy holiday meal. If you make it ahead of time, leave pears in syrup until a few hours before you use them to prevent colour loss.
PEARS
4 pears, preferably Bosc
2 cups (500 mL) pomegranate juice
½ cup (125 mL) orange juice
½ cup (125 mL) sugar
1 cinnamon stick, about 2 inches (5 cm)
1 vanilla bean
4 star anise
1 tsp (5 mL) grated orange rind

SABAYON
3 eggs
2 egg yolks
3 tbsp (45 mL) granulated sugar
Pinch of salt
½ cup (125 mL) sweet white wine such as late harvest Riesling
½ cup (125 mL) pomegranate seeds
1 Peel pears but leave stems on. With a melon baller, remove the core and seeds.

2 Bring pomegranate juice, orange juice, sugar, cinnamon stick, vanilla bean, star anise and orange rind to a boil in a medium high-sided pot. Add pears and reduce heat to medium-low. Pears should be mostly submerged. Simmer, covered for 20 to 25 minutes or until pears are soft, turning occasionally in the poaching liquid. Remove from heat.

3 Remove pears from liquid and reserve. Strain sauce into saucepan and bring to boil over high heat. Boil until reduced to a syrupy glaze, yielding about ½ cup (125 mL), 25 to 30 minutes. Let cool to room temperature.

4 Place eggs, yolks, sugar and pinch of salt in a heavy pot over low heat. (you can use a double boiler for this. Place a wide pot over a pot of simmering water). Whisk until the mixture thickens and triples in volume, about 5 to 7 minutes. Remove from heat and whisk in wine. Raise heat to medium-low and return pot. Continue whisking until thickened and at ribbon stage, about 2 more minutes. Remove from heat and continue to stir for 1 to 2 minutes to prevent curdling.

5 Pour sabayon into 4 glass serving dishes.Top with a pear and drizzle with the syrupy glaze. Sprinkle with pomegranate seeds.
SHARE