Polenta Timbale
Automne 2013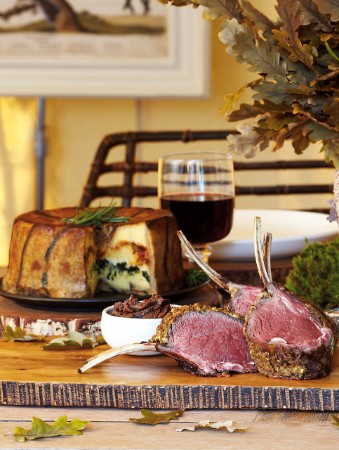 Polenta Timbale
Automne 2013
BY: Christopher St. Onge
Much like a lasagna, this beautiful edible centrepiece takes some planning. While the flavours here pair perfectly with the rich and earthy Mushroom Ragù to be served alongside, you can substitute your favourite homemade pasta sauce. The timbale may be assembled several hours in advance and cooked when ready.
1 bunch dandelion greens, chopped into ½ inch (1 cm) pieces
2 tbsp (30 mL) olive oil
1 clove garlic, finely chopped
Salt

TO ASSEMBLE
1 large eggplant, about 2 lbs (1 kg)
2 cups (500 mL) fine dry bread crumbs
¾ cup (175 mL) freshly grated Parmesan cheese
Freshly ground pepper
4 eggs, lightly beaten
Olive oil for frying
1¼ cups (310 mL) coarse cornmeal
3 tbsp (45 mL) butter
1 cup (250 mL) freshly grated Pecorino Romano cheese
2 cups (500 mL) coarsely grated fontina cheese
5 cups (1.25 L) Mushroom Ragù (recipe follows)
1 Cook dandelion in salted boiling water for 12 to 14 minutes, or until thickest pieces of stalk are tender. Pour into a colander to drain and, using a large spatula, press dandelion to extract excess moisture. Remove to a bowl and toss, while still hot, with olive oil and garlic. Season with salt and set aside (if preparing ahead, dandelion will keep covered and refrigerated for a day).

2 To assemble, trim green stem from eggplant; carefully slice lengthwise into ¼-inch-thick (5-mm) slices. Combine bread crumbs and Parmesan in a large shallow dish; toss to combine and season generously with salt and pepper. Place eggs in another large shallow dish. Coat eggplant slices first in egg, then in bread-crumb mixture. Heat ¼ cup (60 mL) olive oil in a large nonstick skillet over medium heat. Fry eggplant in batches, refreshing oil when necessary, about 3 minutes per side, or until crispy and golden; remove to a paper towel-lined cookie sheet and hold in a single layer.

3 Beginning at the bottom centre of an 8-inch (20-cm), 8-cup (2-L) capacity soufflé dish, line with centre-cut eggplant slices (reserve smaller end slices to top the timbale), narrow ends toward the centre of dish, and each over lapping by half. Set aside.

4 Bring 4½ cups (1.125 L) water and ½ tsp (2 mL) salt to a boil in a medium saucepan over medium heat. Whisking constantly, sprinkle cornmeal into pot. Reduce heat to low and simmer, partially covered (mixture will sputter), for 20 minutes, stirring occasionally or until polenta stops sputtering and is very thick. Remove from heat; stir in butter andPecorino Romano.

5 Spoon one-third (about 1⅓ cups/330 mL) of polenta into eggplant-lined dish; smooth. Sprinkle with half of the fontina cheese. Spread 1 cup (250 mL) Mushroom Ragù over. Repeat polenta layer with another third of mixture and top with remaining fontina. Top cheese with dandelion mixture. Finish with final third polenta. Fold eggplant ends over top. Use remaining eggplant slices to cover polenta. Top timbale with a heavy ovenproof skillet, bottom down.

6 Turn one side of grill to medium. With lid closed, preheat to 375°F (190°C). (Alternatively, timbale may be cooked in a conventional oven at same temperature.)

7 Place skillet-topped timbale over indirect heat, close lid and cook for 50 to 55 minutes or until hot and bubbling. Remove from heat and allow to rest for 60 minutes.

8 Warm remaining Mushroom Ragù. Remove skillet from top of timbale and run a knife around edge to loosen. Place serving platter overtop and invert. Remove souffle dish. Slice into wedges and serve with additional hot ragù.

MUSHROOM RAGÙ

This robust sauce is the ideal partner for the Polenta Timbale and is terrific served over rigatoni or penne as well. If you don't have any homemade beef stock on hand for the ragù, many butchers sell fresh or frozen shop-made beef stock.

1 oz (30 g) dried porcini
¼ cup (60 mL) olive oil
2 tbsp (30 mL) butter
4 cloves garlic, thinly sliced
2 lbs (1 kg) mixed mushrooms, thinly sliced (preferably a mix of cremini, oyster, chanterelle)
1 tsp (5 mL) salt
12 sage leaves, torn
½ cup (125 mL) tomato paste
½ cup (125 mL) dry Marsala wine
1 can (796 mL) Italian plum tomatoes
2 cups (500 mL) homemade beef stock
1 tbsp (15 mL) chopped rosemary
Freshly ground pepper to taste
1 Pour 2 cups (500 mL) boiling water over dried porcini and soak for 30 minutes. Remove porcini and roughly chop; set aside. Strain and reserve 1 cup of soaking liquid.

2 Heat olive oil and butter in a large saucepan over high heat. Add garlic, mushrooms, salt and sage to pot; cook for 10 minutes or until mushrooms have given up their moisture and pan is once again dry. Reduce heat to medium and cook an additional 8 to 10 minutes, stirring frequently, or until mushrooms are lightly golden.

3 Push mushrooms to one side of pan and spread tomato paste in a thin layer on cleared side; cook for 2 minutes to caramelize. Stir into mushrooms. Pour Marsala and reserved porcini liquid over and boil for an additional 3 minutes or until thick.

4 Roughly chop tomatoes. Add to pot along with packing juices and beef stock. Stir in rosemary; bring to a simmer and cook for 10 minutes to marry flavours and thicken sauce somewhat. Check seasoning, add black pepper to taste and more salt if necessary. Remove from heat and set aside (if making ahead, ragù will keep covered and refrigerated for up to 5 days).
SHARE