Polenta Shrimp Nests
Early Summer 2009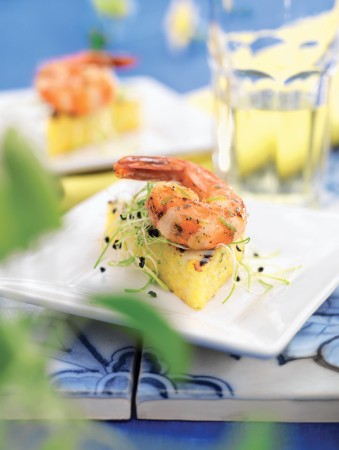 Polenta Shrimp Nests
Early Summer 2009
BY: Marilyn Bentz-Crowley
These charming nibbles have interesting polenta bases. Polenta is best made with coarse corn meal, which can be found at Italian groceries or health food stores. Topped with a few onion sprouts and a shrimp hot off the barbecue, these bites can be grilled in batches to match the ebb and flow of the party.
3 cups (750 mL) lower-sodium chicken broth or water
1⁄2 to 1 tsp (2 to 5 mL) very finely minced, fresh hot red pepper (such as habanero or Thai) or a generous pinch or 2 of crushed chili flakes
5 tbsp (75 mL) olive oil, divided
1 cup (250 mL) coarse corn meal
1 tbsp (15 mL) finely chopped fresh herbs such as thyme, basil or parsley
1⁄2 cup (125 mL) shaved or coarsely shredded Asiago or Parmesan cheese
1 small garlic clove
Zest of 1⁄2 lime and juice of whole lime, about 2 tbsp (25 mL)
1 lb (500 g) large (21 to 25 count) raw shrimp, peeled and deveined with tail on, defrosted if frozen
1 pkg (70 g) onion sprouts (see TIP below)
1. To make polenta, bring stock to a rolling boil. (If using water, add 1⁄4 tsp/1 mL salt.) Slowly stir in minced pepper, 1 tbsp (15 mL) olive oil and corn meal. Reduce heat to low and cover. Stir occasionally while scraping bottom of pan to avoid as much sticking as possible; cook 30 minutes. Stir in herbs. Texture should be that of somewhat grainy mashed potatoes.

2. Lay a generous piece of plastic wrap on a baking sheet; coat plastic with cooking spray or lightly oil. Spread polenta 3⁄4 inch (2 cm) thick, in about a 9 x 10-inch (23 x 25-cm) rectangle.Pull up and press plastic wrap directly onto surface; smooth top somewhat. Refrigerate for at least 2 hours or up to 2 days to firm. Remove from refrigerator, remove plastic and slice into12 pieces (like brownies) and then diagonally into similarly sized triangles.

3. When ready to grill, lightly brush triangles with 2 tbsp (25 mL) olive oil on both sides and place on preheated grill. (The grill must be very hot or polenta sticks!) Grill for about 3 to5 minutes per side, turning with a metal spatula as needed, or until hot with browned grill marks. Once turned, top each with a bit of cheese. When underside is done, remove to a warm plate; keep warm.

4. Meanwhile, stir remaining 2 tbsp(25 mL) oil with garlic, lime zest and juice; stir into shrimp. If not ready to grill, cover and refrigerate for up to several hours. (Keep shrimp cold at all times.) When polenta rounds are ready, grill shrimp in batches over hottest part of barbecue for 2 to3 minutes per side, turning and rearranging frequently until singed, pink and firm.

5. Top each round with a pinch of onion sprouts and a hot shrimp. Serve right away.

TIP: If onion sprouts are not available, use green onions. Very thinly slice several with a sharp chef's knife held on the extreme diagonal. The resulting slices are very thin and up to an inch (2.5 cm) long, a colourful stand-in for sprouts.
SHARE