Miso-Rubbed Roasted Chicken Breasts On A Bed Of Sushi Rice Pilaf
Printemps 2007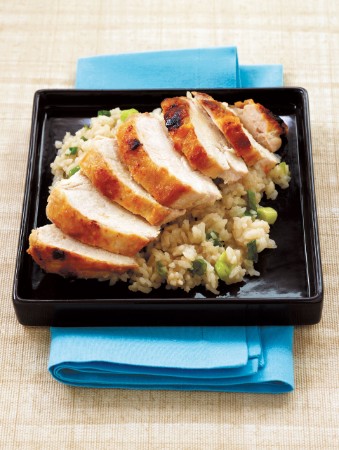 Miso-Rubbed Roasted Chicken Breasts On A Bed Of Sushi Rice Pilaf
Printemps 2007
BY: Lucy Waverman
Miso (Japanese soy bean paste) is healthy and low in fat. Use a light or white miso as the darker ones are too salty for chicken. It gives a succulent taste to the chicken breasts.
Chicken
1 tbsp (15 mL) vegetable oil
4 boneless chicken breasts, skin on
Salt and freshly ground pepper
¼ cup (50 mL) light miso
2 tbsp (25 mL) sake
2 tbsp (25 mL) mirin
1 tbsp (15 mL) orange juice
1 tsp (5 mL) grated orange rind


Sushi Rice Pilaf
2 cups (500 mL) sushi rice
3 cups (750 mL) water
2 tbsp (25 mL) light miso
1 tbsp (15 mL) soy sauce
¼ cup (50 mL) seasoned rice wine vinegar
¼ cup (50 mL) chopped green onions
1. Heat vegetable oil in a large nonstick skillet over medium-high heat. Season chicken breast lightly with salt and pepper and place chicken skin-side down in skillet. Sear for 2 minutes or until golden. Turn over and cook for 1 minute longer. Remove from pan.

2. Combine miso, sake, mirin, orange juice and orange rind. Brush over chicken breasts. Marinate for 1 hour

3. Preheat oven to 400ºF (200ºC).

4. Place breasts on a rack over a baking dish and bake, basting occasionally for 25 to 35 minutes or until juices run clear.

5. Rinse rice with water while chicken is cooking. Drain. Place rice in a pot and add fresh water. Bring to boil. Reduce heat to low and cover. Simmer for 10 minutes. Combine miso and soy sauce. Use a spatula to fold miso mixture into rice. Cover again and cook another 5 minutes or until rice is tender. Stir in seasoned rice wine vinegar and green onions.

6. Slice chicken and serve over rice.
SHARE