Sugar Snap Peas with Lemon Butter and Black Sesame Seeds
Early Summer 2004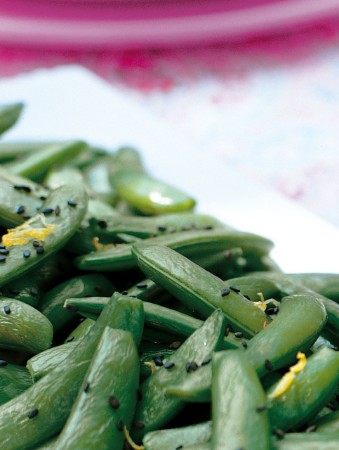 Sugar Snap Peas with Lemon Butter and Black Sesame Seeds
Early Summer 2004
BY: Marilyn Bentz-Crowley and Joan Mackie
Fresh sugar snap peas can't be beaten for crunchiness and flavour, especially when they are scattered with dramatic black sesame seeds.
Pinch salt
1 lb (500 g) sugar snap peas
1 lemon
2 tbsp (25 mL) butter
1 garlic clove, minced
1 tsp (5 mL) black sesame seeds, toasted
1. Half fill a large saucepan with water; add a pinch of salt and bring to a boil. Meanwhile, trim peas and remove strings, if any. Drop peas into boiling water; boil one minute. Drain in a colander, then rinse under cold running water until cooled. Turn out onto paper towel to dry.

2. When ready to serve, grate 2 tsp (10 mL) lemon zest and squeeze 1 tsp (5 mL) juice. Melt butter in a large frying pan over medium heat. When bubbly, add garlic and peas. Stir frequently for 2 to 3 minutes, or until hot. Stir in zest and juice. Turn into a heated serving bowl; scatter sesame seeds over top. Serve immediately.
SHARE