Poached Side of Salmon with Pea-Sprout Vinaigrette
Printemps 2014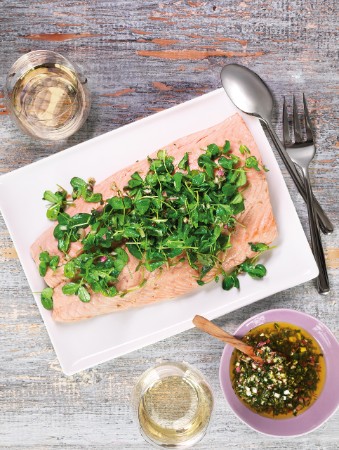 Poached Side of Salmon with Pea-Sprout Vinaigrette
Printemps 2014
BY: Christopher St. Onge
Tasting much like peas, pea sprouts contain considerably fewer naturally occurring sugars, and can be used much like fresh herbs and lettuces. They are delicious cooked as well, needing only a brief steam or sauté. Serve the salmon as part of brunch for a crowd, but be sure to whisk together the vinaigrette just before serving, as the gorgeous, delicate pea flavour is fleeting.
2 cups (500 mL) dry white wine
5 cups (1.25 L) water
1 small lemon, sliced
1 small bulb fennel, thinly sliced
2½ tsp (12 mL) salt, divided
3½ lbs (1.75 kg) side wild salmon with skin on, pin bones removed
2 shallots, minced
½ cup (125 mL) finely chopped pea sprouts
⅔ cup (150 mL) olive oil
1½ tsp (7 mL) sugar
2 tbsp (30 mL) Champagne vinegar
2 cups (500 mL) whole pea sprouts, washed and dried
1 Combine wine, 5 cups (1.25 L) water, lemon, fennel and 2 tsp (10 mL) salt in a fish poacher or large roasting pan. Set over 2 burners and bring to a simmer over medium heat; cook for 5 minutes. Remove from heat and lower a rack over solids in pan.

2 Rinse salmon and pat dry. Place on a large clean piece of cheesecloth, skin-side down. Lower cheesecloth and salmon onto rack in pan; add additional water if necessary to just cover fish. Set pan over medium heat, return to a simmer and immediately lower heat to low (water should just barely simmer). Cook for 20 minutes, or until thermometer inserted into thickest part of flesh registers 135°F (57°C). Remove from heat.

3 When just cool enough to handle, remove fish to a large serving platter, using cheesecloth as handles; discard poaching liquid. Allow to drain for 15 minutes; pour off accumulated liquid and carefully remove cheesecloth. Cover with plastic wrap and chill for 3 hours, or overnight.

4 To make pea sprout vinaigrette, whisk together shallots, chopped pea sprouts, olive oil, remaining ½ tsp (2 mL) salt, sugar and vinegar.

5 Toss whole pea sprouts with 3 tbsp (45 mL) vinaigrette and arrange over chilled fish. Serve with additional vinaigrette on side to spoon over portions of fish.
SHARE