Poached Salmon with Green Tea Soba Noodle and Cucumber Salad
Début de l'été 2008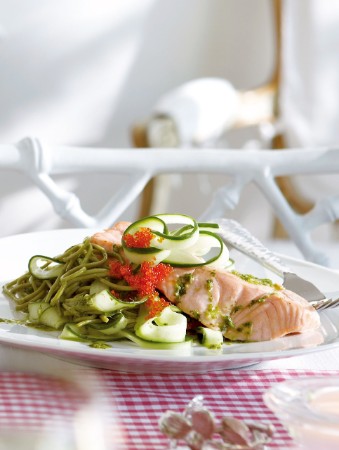 Poached Salmon with Green Tea Soba Noodle and Cucumber Salad
Début de l'été 2008
BY: Dee Gibson, Gibson & Lyle, Caterer
Sold in small jars, tobiko is a Japanese word for flying fish roe. It is typically used in certain sushi dishes such as California Rolls.
1 carrot, roughly chopped
1 piece of celery, roughly chopped
1 white onion, roughly chopped
1 bay leaf
1 clove of garlic
½ lemon
8 cups (2 L) water
6 salmon fillets, about 5 oz (150 g)
1 bunch coriander, washed and chopped
2 tbsp (25 mL) finely chopped fresh ginger
2 tsp (10 mL) grated lime rind
¼ cup (50 mL) rice wine vinegar
¾ cup (175 mL) vegetable oil
2 tbsp (25 mL) sesame oil
2 tbsp (25 mL) brown sugar
Salt
1 pkg green tea soba noodles or spinach fettuccine
1 English cucumber, deseeded and sliced thinly with a vegetable peeler
1 bunch scallions, sliced finely

Garnish
Tobiko
1. Place carrot, celery, onion, bay leaf, garlic and lemon into a medium pot with 8 cups (2 L) water. Gently bring to a simmer. Simmer for 10 minutes and remove from heat. Let stand another 10 minutes and strain or remove vegetables, saving the liquid.

2. Bring the liquid back to a simmer and place the salmon pieces into the broth. Gently poach until desired doneness, 5 to 6 minutes depending on thickness of the fillet.

3. Place coriander, ginger, lime rind, rice wine vinegar, vegetable oil, sesame oil, brown sugar and salt into a blender and blend until smooth.

4. Cook green tea noodles or spinach fettuccine as directed on package. When done, toss with a ½ cup (125 mL) of the coriander and lime vinaigrette, ½ the cucumber and scallions.

5. To plate, place 1 cup (250 mL) of green tea noodles in the centre of a plate or bowl, top with a poached fillet of salmon. Place a reserved cucumber curl on top and a drizzle of the cilantro vinaigrette and garnish with tobiko.
SHARE