Poached Asparagus with Parmesan Sabayon
Printemps 2011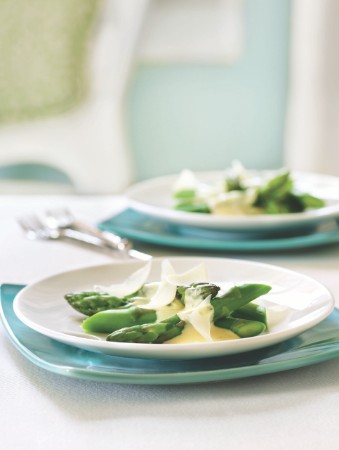 Poached Asparagus with Parmesan Sabayon
Printemps 2011
BY: Christopher St. Onge
This nibble is best served warm, however, you may prepare the sabayon ahead of time. Simply bring a pot of water to a boil, remove from heat, place the bowl of chilled sabayon over it and whisk until warm.
4 egg yolks
1/2 cup (125 mL) 18% table cream
1 tbsp (15 mL) lemon juice
⅔ cup (150 mL) finely grated
Parmigiano-Reggiano cheese
Freshly ground pepper to taste
1 lb (500 g) asparagus
Salt
Extra Parmigiano-Reggiano for garnishing


1. Place yolks, cream and lemon juice in a medium non-reactive bowl set over a pan of simmering water or a double boiler. Using an electric mixer, beat until mixture has thickened, about 4 minutes. Add cheese and continue beating for an additional minute until cheese is melted and mixture is smooth. Remove bowl from heat and add freshly ground pepper to taste. If making ahead, cover with cling wrap and refrigerate.

2. Cut asparagus on the diagonal into 3-inch (8-cm) spears. Poach in salted simmering water until tender-crisp, about 2 to 4 minutes depending on thickness. Strain.

3. Divide asparagus between 8 plates and top each with a drizzle of the sabayon. Garnish with additional freshly shaved cheese, if you like.
SHARE