Plum-Chicken Sumac Skewers with Herbed-Pine-Nut Couscous
Autumn 2013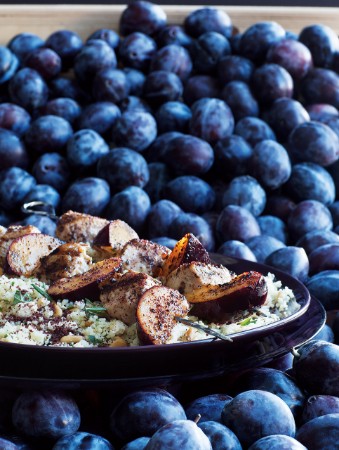 Plum-Chicken Sumac Skewers with Herbed-Pine-Nut Couscous
Autumn 2013
BY: Victoria Walsh
A simple sprinkle of sumac heightens the flavour of this plum-centric dinner. Find sumac in gourmet and Middle-Eastern food stores or order it online. If you can't find it, don't worry—this dish is also delicious without it.
PLUM SKEWERS
12 skewers
4 plums
3 chicken breasts
1 tbsp (15 mL) olive oil
1½ tsp (7 mL) sumac
¼ tsp (1 mL) salt and pepper

COUSCOUS
2 cups (500 mL) chicken broth
1 1/3 cup (330 mL) couscous
¾ cup (175 mL) crumbled feta
½ cup (125 mL) chopped fresh herbs, such as a mix of basil, chives, oregano and rosemary
½ cup (125 mL) toasted pine nuts
1 tbsp (15 mL) olive oil
1 If using wooden skewers, soak in warm water for 20 minutes.

2 Preheat oven to 400°F (200°C) or barbecue to 500°F (260°C).

3 Slice each plum into 6 chunky wedges. Cut each chicken breast into 8 pieces. Alternate pieces on skewers, skewering 3 plum wedges and 3 pieces of chicken per skewer. Lightly brush with oil. Sprinkle with sumac, salt and pepper.

4 If roasting, place on a rack on a foil-lined baking sheet. Roast in centre of preheated oven for 18 to 20 minutes until chicken is cooked through and plums are tender. If barbecuing, oil grill. Barbecue skewers, turning occasionally for 10 to 14 minutes until chicken is cooked through and plums are tender. Sprinkle with more sumac, if you like.

5 Meanwhile, pour broth in a small saucepan. Bring to a boil. Add couscous. Remove from heat and cover. Let stand for 5 minutes. Using a fork, fluff couscous. Turn into a bowl. Gently stir in feta, herbs and pine nuts and oil. Serve skewers over couscous.
SHARE